Editor choice
Best Wireless Earbuds under 5000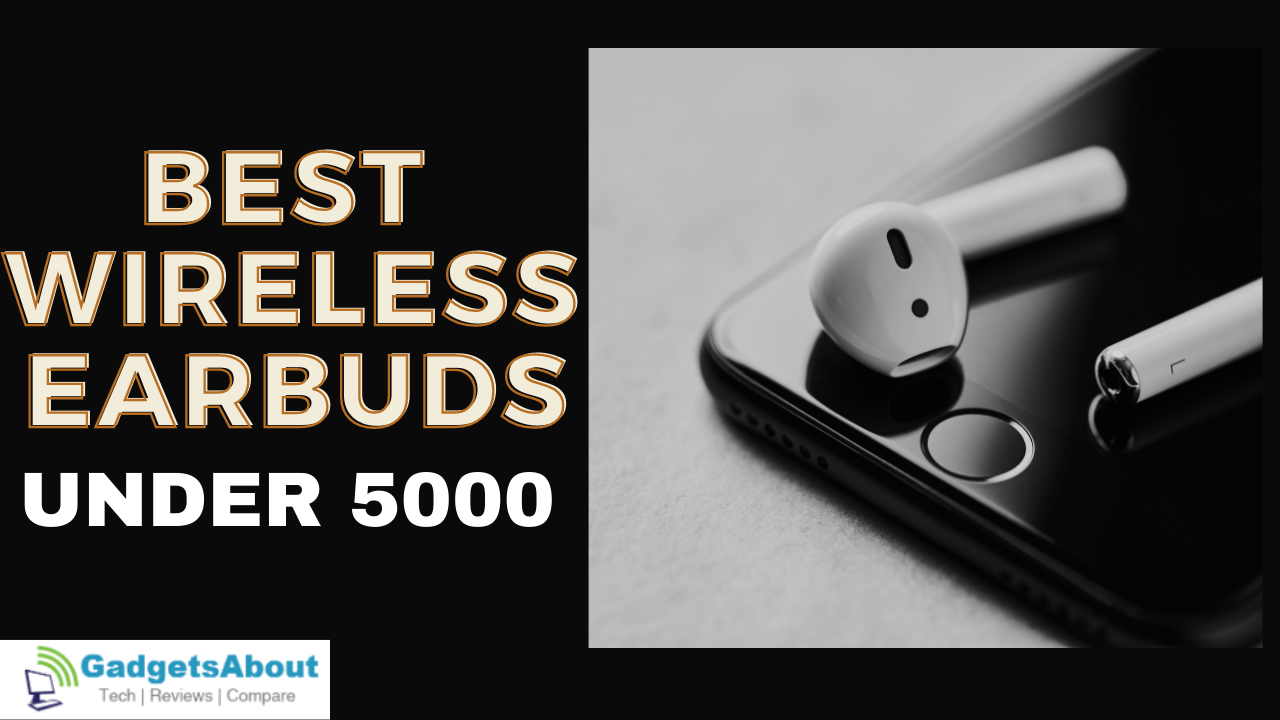 True wireless earbuds are in trend for the past few years. Their superior performance & sound quality will let them stand for the coming years.
If you are looking out for the Best Wireless Earbuds under 5000, we at gadgetsabout.com will help you out to find the best earbuds within your budget in this post.
Also check: Best Wireless Earbuds under 2000 in India
TWS earbuds come with features like good battery life, sweat & water-resistant, control for calls, music change, wireless connectivity, etc.
True wireless earbuds are a high-end demand product in the market. We have seen an affordable segment with good quality within a short time. Apart from premium brands like Apple, which is quite expensive, there are some excellent options like Skullcandy, OnePlus, Lenovo, Noise, etc.
In this blog, we have mentioned the Best Wireless Earbuds under 5000 available online that creates a premium quality hearing experience within your budget.
How does true wireless earphones work?
In every set of TWS earbuds, one earbud is considered as a primary bud, and it serves as a bridge between the source device and the secondary bud. It creates a small network known as a piconet. The primary earbud manages the piconet and compensates for any delay in the audio transmission.
True wireless earbuds have a microphone, which makes them perfect to use for a hand-free operation with your smartphone. In-built microphones are good enough to pick the sound from a bit long-distance; this makes TWS earbuds the ideal gadget for business meetings, music for workout sessions, or calls on the move.
Benefits of TWS earbuds
True wireless earbuds work similar to Bluetooth headsets and are convenient and easy to carry around in the tiny case and they look cool.
TWS earphones using Bluetooth technology have become an essential kit for a number of listeners. With Bluetooth 5 offering the most energy efficiency and stable connection, TWS earbuds have flourished in the market.
TWS earbuds eliminate the hassle of wires and help in mobility
The sound quality is outstanding
TWS earbuds support fast charging.
These earbuds are 100% comfortable & secure.
Why should you buy Truly Wireless Earbuds?
With advancements in technology, users love comfort, so there is no surprise that TWS earbuds will soon become an important gadget. Anything that keeps you connected with your mobile phone and lets you move comfortably without the hassle of dangling wires, why will you not add such comfort to life.
TWS earbuds are right for you if you have a lifestyle that keeps you on the move as these earbuds are easy to handle & comfortable to use
Having said this, The best wireless earbuds need to fit with a tight earbud seal and should be comfortable.
Best Wireless Earbuds under 5000
Here we have mentioned the best True Wireless Earbuds that can help you to meet your requirements which are available on amazon.
1. Skullcandy Sesh Evo Wireless Earbuds
Skullcandy Sesh Evo is a truly wireless headset. These earbuds have durable designs, good sound quality, and are a stable fit for gym persons and joggers.
Skullcandy Sesh Evo earbuds have optimum battery life and a balanced sound profile. The earbuds hold upto 5 hours and the case charges the earbuds 3 times between plug-ins. With the fast charging, the first 10 minutes gives you 2 hours of playtime.
If you are looking for a pair of simple, truly wireless earbuds, they are the right choice. These earbuds work well on noise cancellation and filter out background noises while taking business calls.
The battery life of these Skullcandy earbuds lasts for a day. It changes rapidly and is water & dust resistant.
Skullcandy Sesh Evo True Wireless Earbuds with 24 Hours Total Battery+Rapid Charge, IP55 Sweat, Water and Dust Resistant, Solo Bud and Tile Tracking (S2TVW-N896) (Black)
Rs. 9,999


Rs.

4,599
in stock
as of May 24, 2022 1:37 pm
Features
IP55 Sweat, Water and Dust Resistant
Call, Track and Volume Control
24 Hours Total Battery + Rapid Charge
Find your Earbuds with Tile
Pros
Skullcandy Sesh is easy to use while commuting & travel
Good passive noise isolation
Excellent audio leakage performance
Consistent audio delivery
It has a dense plastic design
It is an ideal fit for your day-to-day activity.
Cons
Short battery life
Average microphone recording quality
Heavy bass won't suit all the listeners.
2. JBL C115 TWS by Harman
JBL C115 TWS earbuds are the latest offering from the audio company in India. The earbuds have an in-ear design and come with a sleek charging case to keep the JBL C115 secure when not in use.
The biggest highlight is the total 21-hour playback that the earbuds are claimed to offer with six hours of battery life offered by the earbuds and 15 hours of earbuds offered by the charging case.
It is also said to come with fast charging support with the company proclaiming that 15 minutes of charge offers one hour of playback.
JBL C115 TWS by Harman, True Wireless Earbuds with Mic, Jumbo 21 Hours Playtime with Quick Charge, True Bass, Dual Connect, Bluetooth 5.0, Type C & Voice Assistant Support for Mobile Phones (Black)
Rs. 8,999


Rs.

3,999
in stock
as of May 24, 2022 1:37 pm
Features
Crystal Clear Calls: JBL's 75 years of audio engineering expertise enables crystal clear calls and sound quality with expert acoustic room construction & precise tuning.
Jumbo Battery Backup: Never run out of juice with 21 hours of playtime (6 hours on earbuds and 15 hours on charging case). Get upto 1Hr of playback with 15mins of charging.
Undistorted Natural Bass: Truly Wireless Headphones that offer pristine sound quality via 5.8mm drivers. Captures the full bandwidth of audio with no distortion even at full volume. Experience music the way it is meant to be heard, without artificially boosted bass.
Comfort fit: Ergonomic design that works for everyone. Pick an eartip that best fits your ear, from 3 available sizes. Bluetooth frequency 2.4 GHz – 2.4835 GHz
Insta Connect: A superior BT 5.0 Chip ensures your earbuds connect with your phone in a flash, the instant you take them out of the case. It transmits sound to both the earbuds simultaneously, & reduces latency to ensure a pleasurable video viewing experience.
Pros
Noise Shots X5 PRO is ideal for sports use as it is sweat resistant and weather-sealed to prevent failures from dust & water splashes
It has stereo speakers for rich sound quality
The earbuds fit tightly in place, creating an acoustic seal
It has a control panel on the device to access volume.
3. OnePlus Buds Z Wireless Earbuds
OnePlus company made its entry into the actual wireless earbuds segment in 2020. It has a background noise filtering feature and lets you enjoy excellent audio quality. 
With affordable pricing, OnePlus earbuds offer premium features like automatic ear detection, Dolby atmos support, ANC etc.
The OnePlus earbuds Z have the signature OnePlus design that the company has used for all of its audio products. OnePlus Buds Z has IP55 rating support, which means it is safe to wear during light rain or workouts.
These earbuds are incredibly lightweight, and one can wear them pretty for a longer duration without any discomfort. The OnePlus Buds Z has reliable Bluetooth connectivity. On a single charge, it works for 5 hours.
OnePlus Buds Z (White)
out of stock
as of May 24, 2022 1:37 pm
Features
More Boom for your bass. Each earbud incorporates an advanced 10mm dynamic driver, delivering deep bass definition. Feel enhanced depth and detail with every beat. Driver sensitivity : '97 dB ± 3dB @ 1 KHz
Transform your audio. Elevate your sound with Dynamic 3D stereo with Dolby Atmos and panoramic sound fidelity using the latest Dirac Audio Tuner digital technology.
A full charge provides class-leading 20 hours of battery life - 5 hours in the earbuds, 15 hours in the charging case. Just 10 minutes of fast charging lets you connect to an impressive 3 hours of vibrant, lively audio.
Your Life without limits. An impressive IP55 rating ensures outstanding water and sweat resistance. The hydrophobic nano-coating repels water, providing protection from corrosion. The OnePlus Buds Z are built to last and withstand some of the most exteme sessions in the gym.
Call your buddies with your Buds Z. Advanced Bluetooth 5.0 technology, dual-microphones, and OnePlus noise reduction algorithms combine for exceptional call clarity and stability. Quick Pair lets you pair automatically. Every time you open the case, Quick Connect immediately connects with your phone for a truly fluid music experience.
Pros
It is affordable with premium sound quality
It supports fast-charging
It has Dolby atmos support and IP55 dust & water-resistant
It is a good fit for travelling, workouts on the go.
4. Lenovo HT10 Pro Wireless Earbuds
The latest Lenovo earbuds are equipped with the new EQ technology for better quality sound at an affordable price. It has good clarity of sound with soothing light music & heavy bass for party songs. It offers two modes i.e., pure music & extra bass to enable the users to switch the frequencies just by a single button.
It comes with extraordinary features like a dual microphone, waterproof, ergonomic design, and better battery life. The music control options on the Lenovo HT10 are easy to use.
The earbuds are powered by Qualcomm QCC3020 chipset and aptX sound. Bluetooth connectivity has 20 meters range and has a sleek design.
Lenovo HT10 Pro True Wireless Earbuds Headphones with Lenovo EQ Technology, Qualcomm QCC3020, Bluetooth 5.0 with APT-X HD Audio, IPX5 Waterproof & Sweatproof (48 Hrs Playtime on Charging Case) (Black)
Rs. 5,499


Rs.

3,799
in stock
as of May 24, 2022 1:37 pm
Features
HT10 Pro Powered with Lenovo EQ Technology with Extra bass where customer can switch between Pure Bass & Extra Bass by pressing 3 times on the right earbud
Qualcomm QCC3020 Chipset : Lenovo HT10 Pro Powered by latest Qualcomm chipset QCC3020 this is the advance and latest chipset in the industry from Qualcomm for the True Wireless Devices
Upto 48 Hours of Playtime : HT10 Pro comes with great battery backup of 8 Hours on the Earbuds & 48 Hours on the charging case with a Quick Charge in 2 Hours
Latest Bluetooth 5.0 : Lenovo HT10 Pro TWS comes with the latest Bluetooth 5.0 Technology Qualcomm QCC3020 chipset and also supports APT-X HD audio with minimal audio lag
IPX5 Certified & Sweatproof : The HT10 Pro passed IPX5 waterproof test and sweatproof without fear of daily waterproofing in life and also it can effectively prevent the erosion of the sweat
Pros
HT10 Pro earbud comes with the latest Bluetooth technology and supports APT-X high-quality audio
Lenovo HT10 Pro offers one year of warranty from the date of the product purchase
Can easily switch between pure base & extra bass by pressing three times on the right earbud.
It is waterproof and sweatproof.
Lightweight
Cons
The grip could be better.
5. boAt Airdopes 441 Wireless Earbuds with IWP Technology
Boat Airdopes 441 is a feature-filled headset that promises the user a lot within less price. These earbuds are available in five colours. Boat Airdopes 441 offers 5 hours of playback time in earbuds and 25 hours in a charging case.
It has Bluetooth connectivity with a range of max. 10 meter. These earbuds are compatible with android and iOS. It is water & sweat resistant to provide a carefree listening experience.
It is power-packed with a 500mAH charging case that ensures fast charging. It has an active voice assistant. It is a good fit for workout people as it has a good design and better sound quality. It has a good quality microphone with enhanced voice clarity.
boAt Airdopes 441 TWS Ear-Buds with IWP Technology, Immersive Audio, Up to 30H Total Playback, IPX7 Water Resistance, Super Touch Controls, Secure Sports Fit & Type-C Port(Active Black)
Rs. 5,999


Rs.

2,499
in stock
as of May 24, 2022 1:37 pm
Features
Playback- Keep yourself plugged all day as the Airdopes 441 provide upto 5 hours of sound per charge and an additional 25H of playback bliss with the carry cum charge case.
Drivers- It possesses 6mm drivers for enthralling audio bliss with immersive sound
Instant Connect- It is equipped with IWP (Insta Wake N' Pair) Technology that powers on the TWS earbuds and puts them into connection mode as soon as one opens the lid of the carry case
IP Rating- It is IPX7 rated for resistance against water and sweat to provide a carefree listening experience
Controls- You can access the instant voice assistant via just a single touch with the help of its advanced capacitive touch controls
Pros
It has a Lightweight design
Boat Airdopes 441 has an Active voice assistant
It comes with a 1-year warranty from the date of purchase
It has a type C-charging slot & Smart touch control
Good battery life
Editor's Pick-SkullCandy Sesh Evo
After testing the above True Wireless Earbuds, we found SkullCandy Sesh Evo as a winner under the 5000 category
FAQs
What are the best true wireless earbuds?
Is it worth buying true wireless earbuds?
Yes, they are worth it, especially if you are into fitness or travel. The lack of wires provides for a better range of motion, connectivity to a variety of devices and the latest wireless earbuds have great range, memory, and battery life.
Are wired earbuds safer than wireless?
Wired earphones are considered safer than wireless earbuds because they do not require a Bluetooth connection so as to work effectively. You will just need to connect the cable of the earphones to the device you are using.