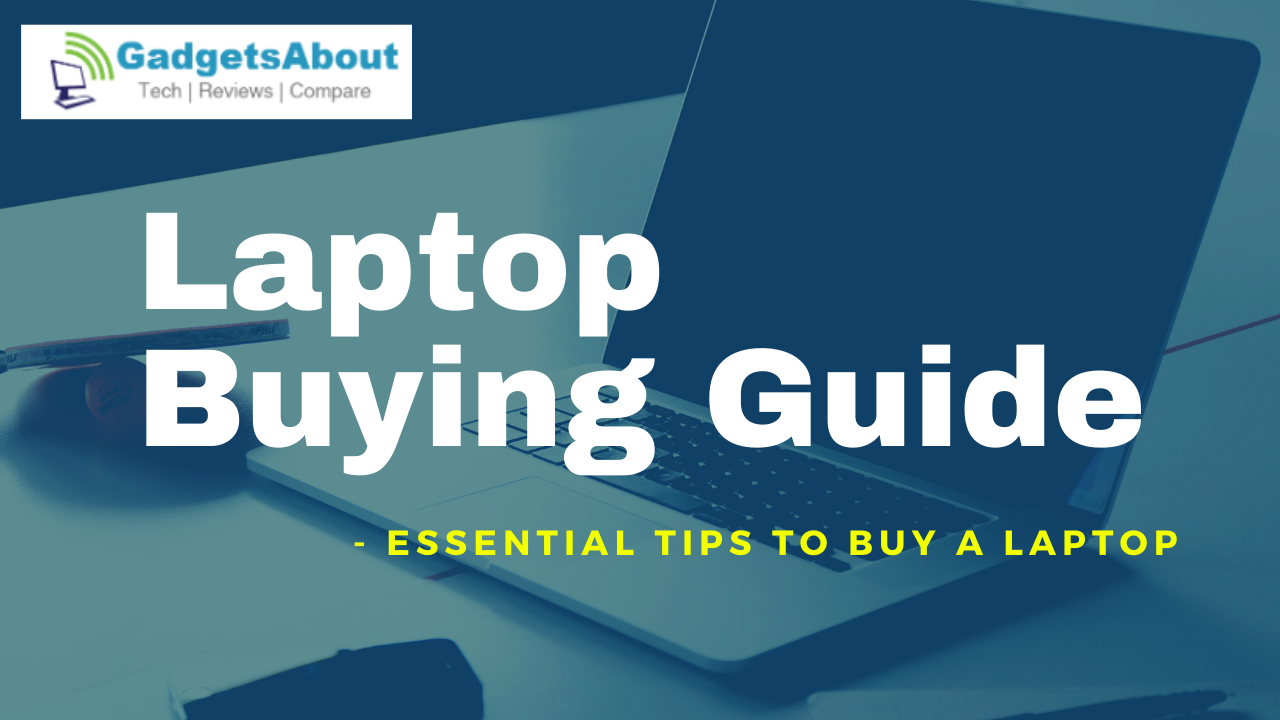 If you are looking to purchase a laptop and are confused about which laptop to select, then here is a comprehensive Laptop Buying Guide that might be helpful for you to make a decision on choosing the best Laptop suitable for your requirements.
About Laptop
A laptop is an essential gadget for everyone in life, be it a college student or an IT professional. There are many laptops available on Amazon or Flipkart as well as Offline stores based on various technologies and needs.
It is difficult to make a decision in case you are not aware of the specs and models of the laptop which is suitable for you.
Before buying a laptop, you should fix a price bracket in your mind. This will make sure that you stick to it and try to find out the best laptop in that range.
Laptop Buying Guide
We have prepared a list of the features that you expect from your laptop and this laptop buying guide will help you buy a laptop that suits your basic requirements.
Laptop Buying Guide – Select the Required Screen Size
Before you look at specifications or pricing, you need to figure out just how portable you need your laptop to be.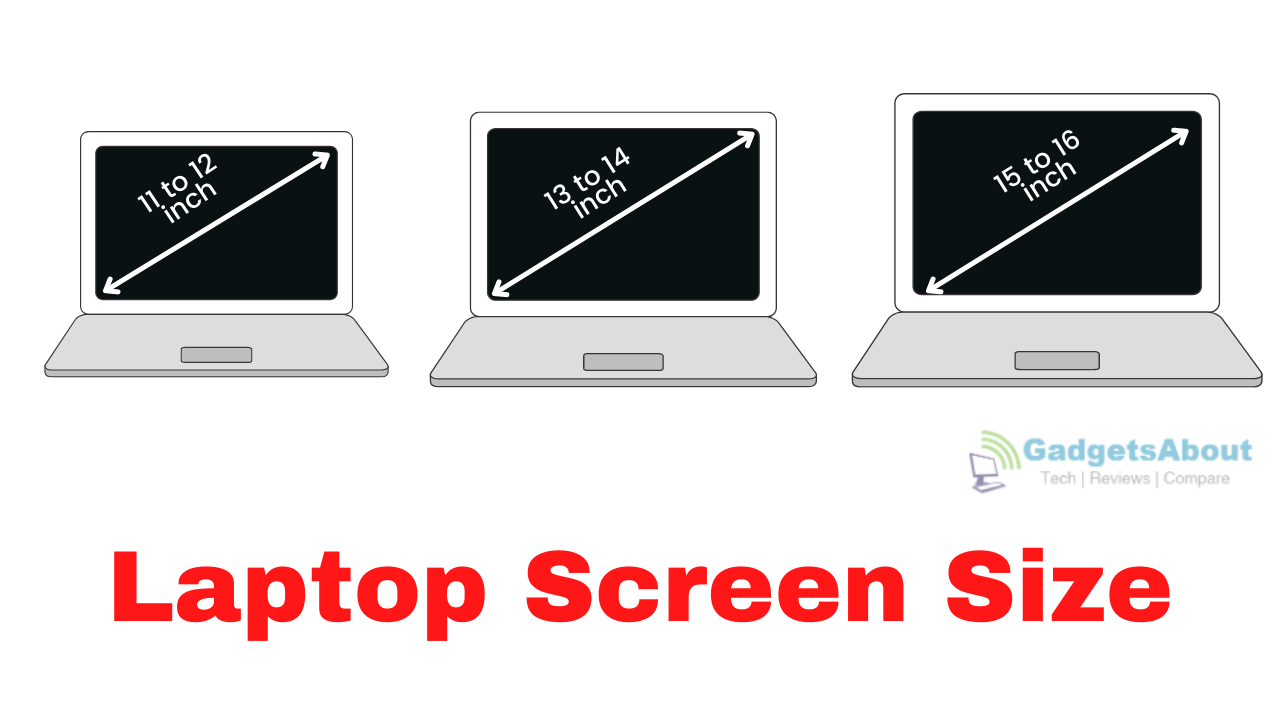 Laptops sizes are usually categorized by their display:
11 to 12 inches: The thinnest and lightest systems around have 11- to 12-inch screens and typically weigh 2.5 to 3.5 Kgs.
13 to 14 inches: Provides the best balance of portability and usability, particularly if you get a laptop weight under 4 Kg.
15 to 16 inches: 15-inch or 15.6-inch laptops are the most popular size, usually weigh 4 to 5.5 Kgs. Consider this size if you want a larger screen and you're not planning to carry your notebook around often. Laptops with 16-inch displays are rare but Apple might get the trend started with its 16-inch MacBook Pro.
Laptop Buying Guide – RESOLUTION
Windows laptops generally have a resolution of 1366 x 768 pixels. This is acceptable for most home uses.
High-end or gaming laptops usually have sharper screens with a resolution of 1920 x 1080 pixels or more.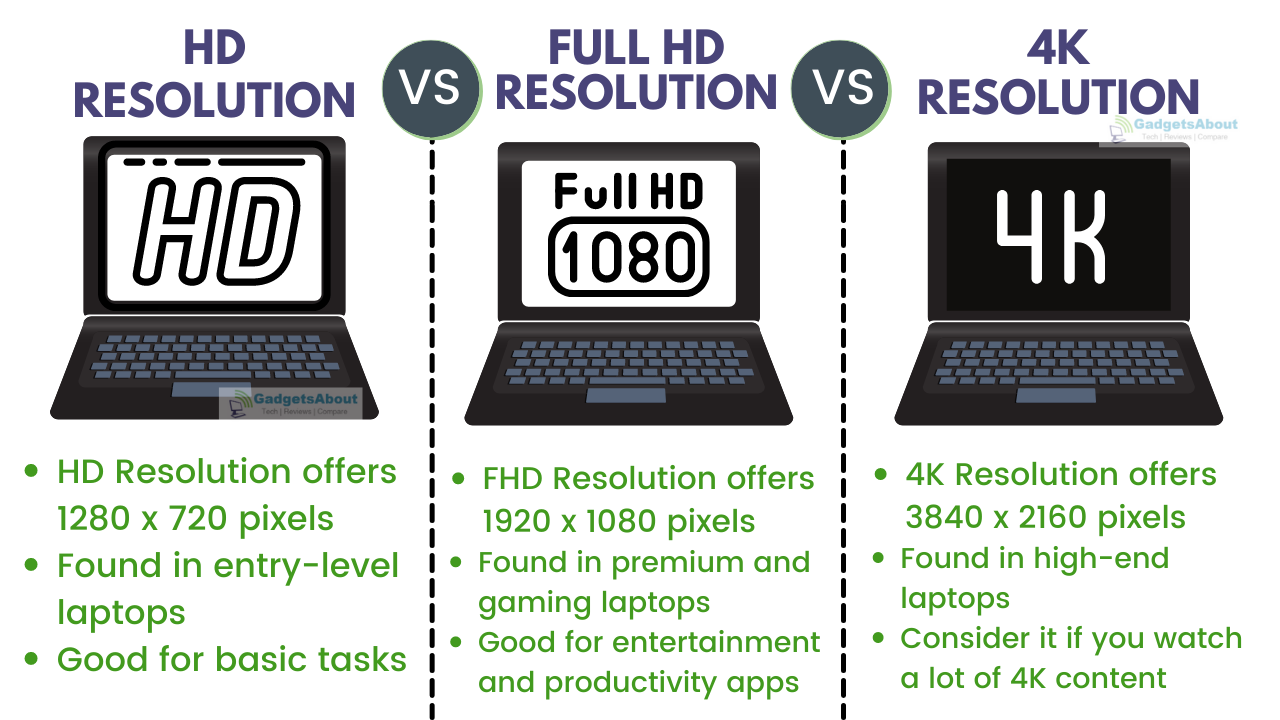 Laptop Buying Guide – Processor suitable for your needs
Laptop Processors are made primarily by two companies, Intel and AMD. Intel has its Pentium, Celeron, and Core i3, i5,i7,i9 series whereas AMD has A, FX, and Ryzen series.
Let us know which processor to choose while purchasing a laptop.
If you need a laptop for casual browsing, watching videos, and running lite software, then a current-gen i3 processor or AMD Ryzen 3 is more than enough.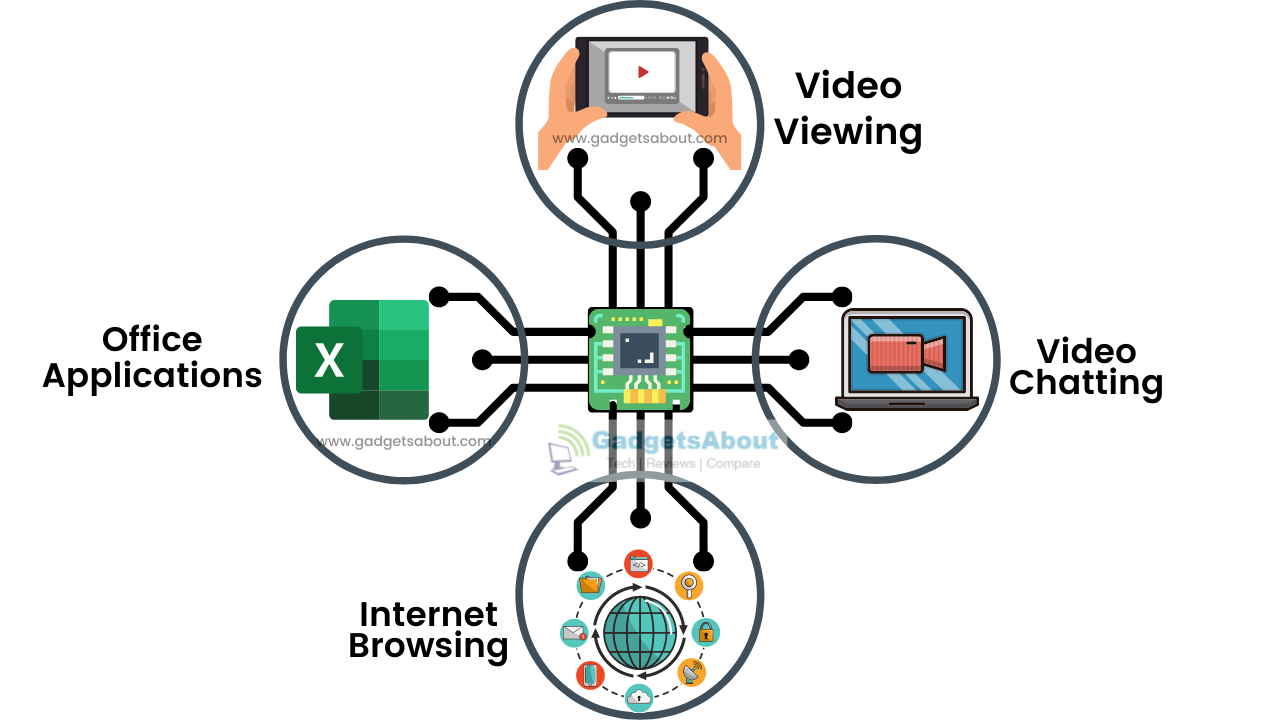 Related Post: Top 3 budget core i3 laptops under 25000
If you're a student and hoping to play a few games, then an Intel Core i5 processor and above or AMD Ryzen 5 is recommended as it will let you play games flawlessly and work with more intensive software.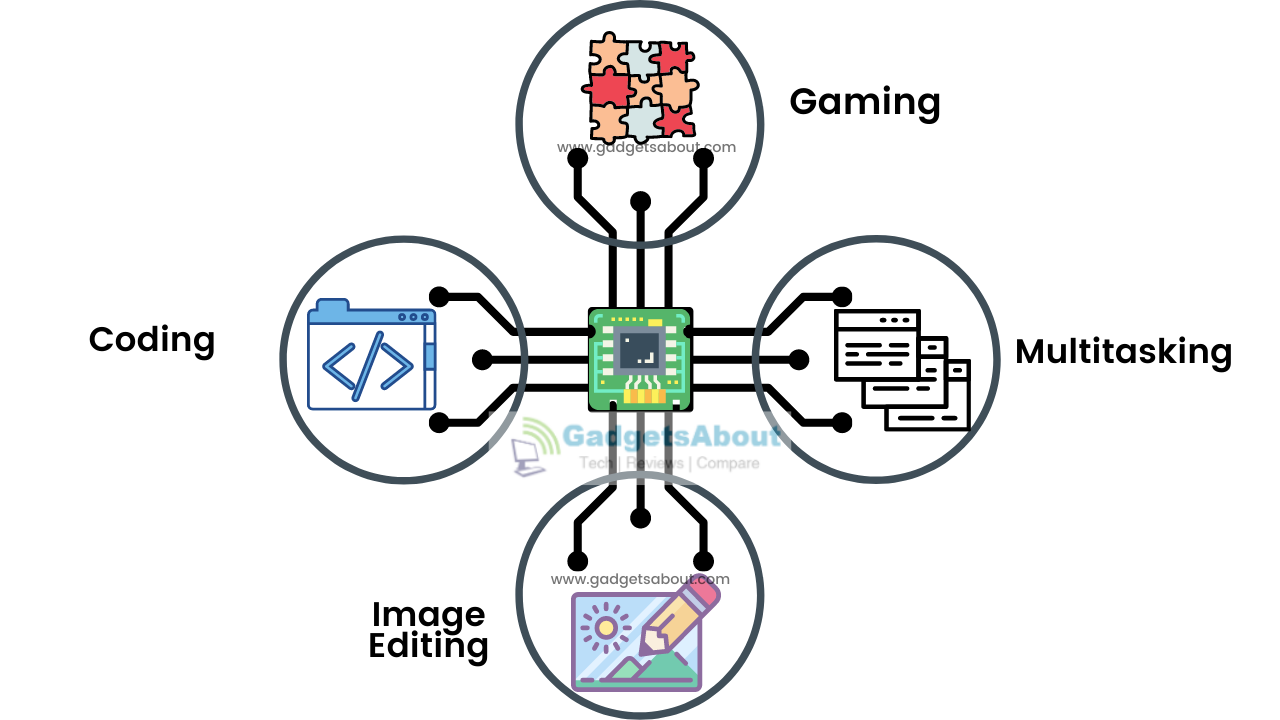 Related Post: Best intel 11th gen laptops in India
Core i7 and i9 processors or AMD Ryzen 7 offer the best performance, but they come with a price tag to match. Go for these only if you know you have CPU-intensive software or want the best gaming performance.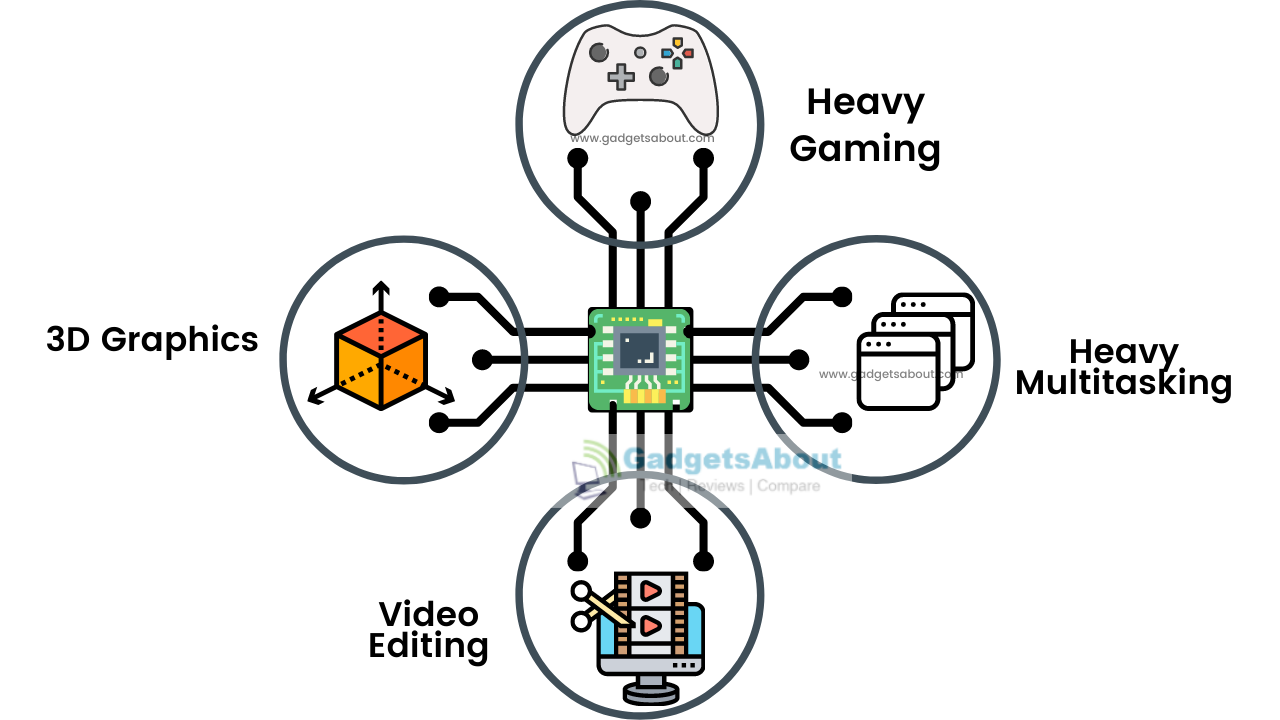 Apple M1: Apple M1 is the first of Apple's custom silicon, the ARM-based M1 chip crushes the competition when it comes to raw performance and endurance. It is used on the Apple MacBook Air and MacBook Pro.
Laptop Buying Guide – RAM to choose
Nowadays, a Laptop is available in the market with a minimum of 4GB RAM.
Most of the laptops now are coming with DDR 4 & DDR5 RAM, which provide you a fast and lagless experience.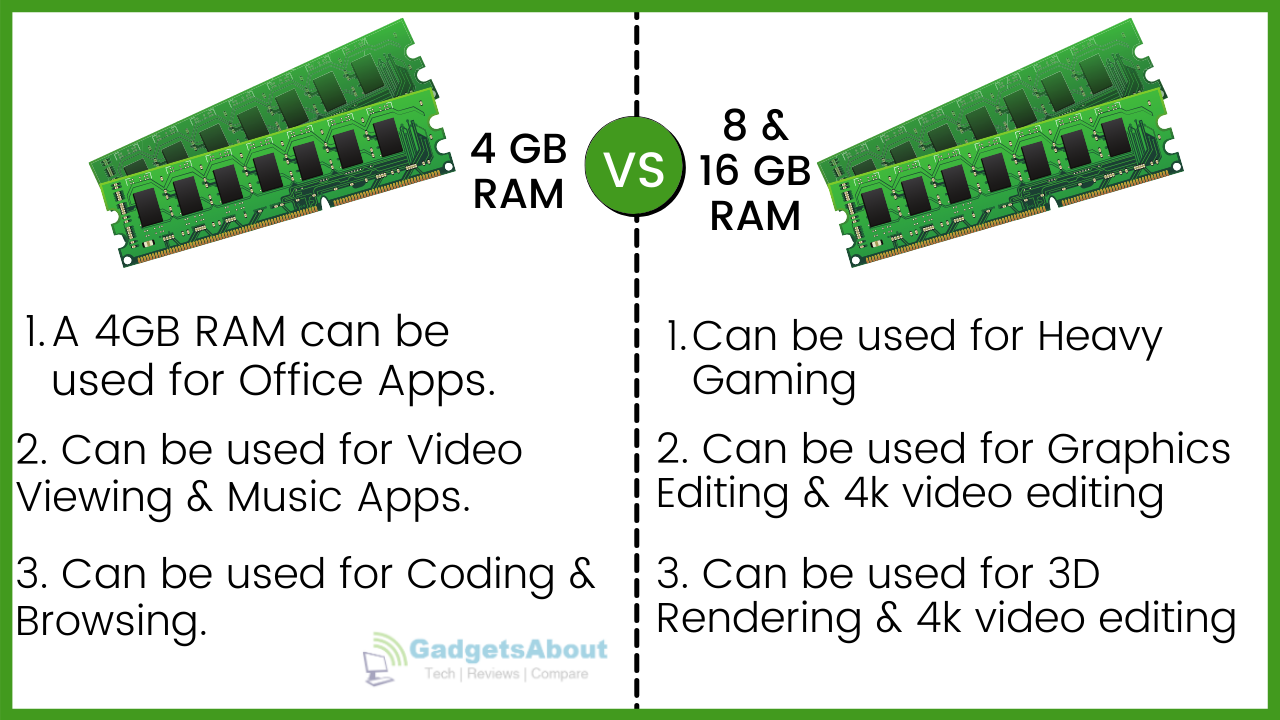 This is ideal to be able to have multiple applications open at the same time comfortably, and have multiple tabs open on your browser without your laptop crashing on you.
If you're looking for a laptop for gaming then it is recommended for you to purchase a minimum of 8GB RAM for a smooth gaming experience, but you ideally want 16GB RAM, especially with games today.
You must check whether there is an extra RAM slot available. It is recommended to choose a laptop that provides you with a multiple RAM slot.
Laptop Buying Guide – Storage – HDD & SSD
If you're someone who requires a lot of storage space in your laptop then it is recommended to go for a laptop with a high-capacity HDD. If you're looking for speed in your laptop, then you want an SSD in it.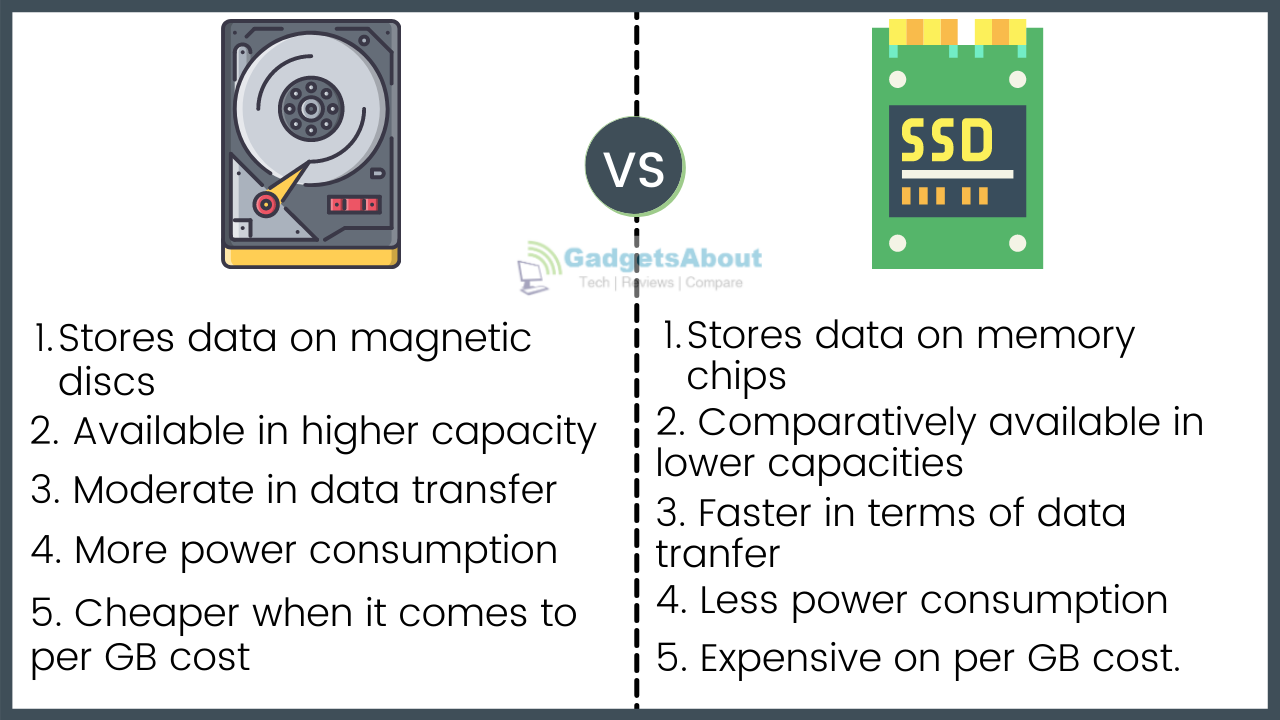 A few laptops come with support for M.2 or NVMe SSDs to speed up your read and write speeds. NVMe offers higher input-output per second (IOPS) and even lower latency than SATA. It boasts up to 16 GBPS of raw throughput which, thanks to multiple parallel channels, runs at up to 4,000 MB per second.
Most of the laptops now are getting a low-capacity SSD with a high-capacity HDD. You can choose and buy as per your requirements.
Laptop Buying Guide – Graphic Chip
If you're a casual user, then you don't need to consider a dedicated GPU while purchasing a laptop as it comes with an integrated GPU. good for daily task
If you are planning to purchase a gaming laptop for playing games or using rendering software, you will need a dedicated graphics card.
To play the games at reasonable frames comfortably, we recommend you to go for a laptop that has an NVIDIA MX 330 or NVIDIA GTX 1650Ti if you are looking to purchase a good graphic card.
But you will require an NVIDIA GTX 2070 or higher to experience an AAA game.
Laptop Buying Guide – Laptop Weight
The laptops which are non-gaming high-performance laptops weigh around 1kg to 2.5kgs and can be carried from one place to another easily.
Most of the gaming laptops can be extremely heavy as they come with their own suitcases. However, there are gaming laptops with smaller form factors as well that weigh between 2.5kg to 5kg approximately.
Laptop Buying Guide – Connectivity Ports
Some things you should consider are whether the laptop has a USB 3.0 or 3.1 ports. If you are looking to connect your laptop to a larger display or TV, then you must check for an HDMI or DisplayPorts.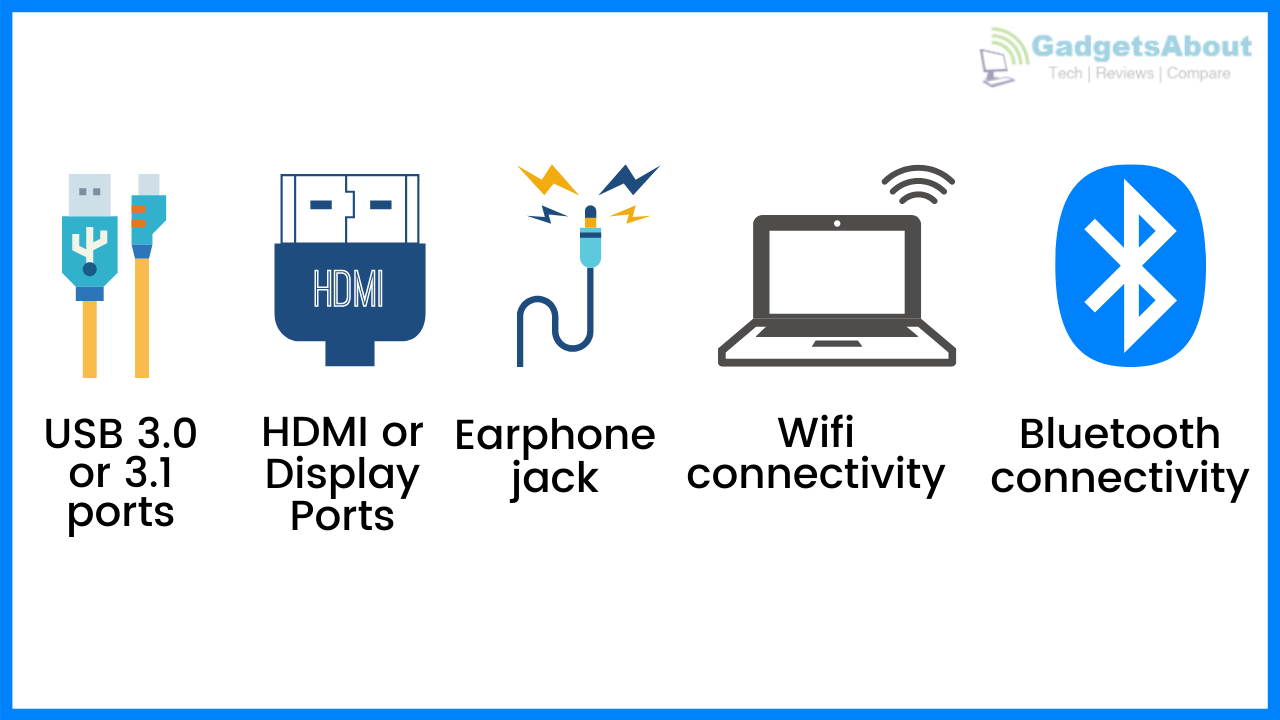 The laptops also come with a headphone jack, by which you can easily connect your earphones or Headphones.
A laptop with 802.11ac Wi-Fi and up to 5GHz standards are recommended for Wifi connectivity and Bluetooth 5.0 to Bluetooth 4.2 can be considered while buying a laptop.
Laptop Buying Guide – Battery Life
The Battery life of a laptop depends on the way you use it. The more you use it, the faster it gets drained.
A laptop battery power also depends on the processor and other specs like charger Watt and Battery capacity, if you purchase a Dell XPS 9500, it comes with an I7 Processor, 6-cell "smart" lithium-ion, and 65-watt charger so the battery will standby till more than 90 hours.
If you're someone who is going to use a laptop mostly while travelling, away from the power outlet then this one's for you.
Try to purchase lower power laptops and ultrabooks which come without any separate GPUs. It can easily offer you at least eight to nine hours of battery life. Gaming Laptops will hardly stay awake for 2 hours with a single charge.
Laptop Buying Guide – Choosing the suitable Operating System
There are three major Operating Systems available for laptops, which are Apple's macOS, Microsoft's Windows, Google's Chrome OS, Linux, and DOS. It is now a very popular alternative typically offered on much more affordable laptops.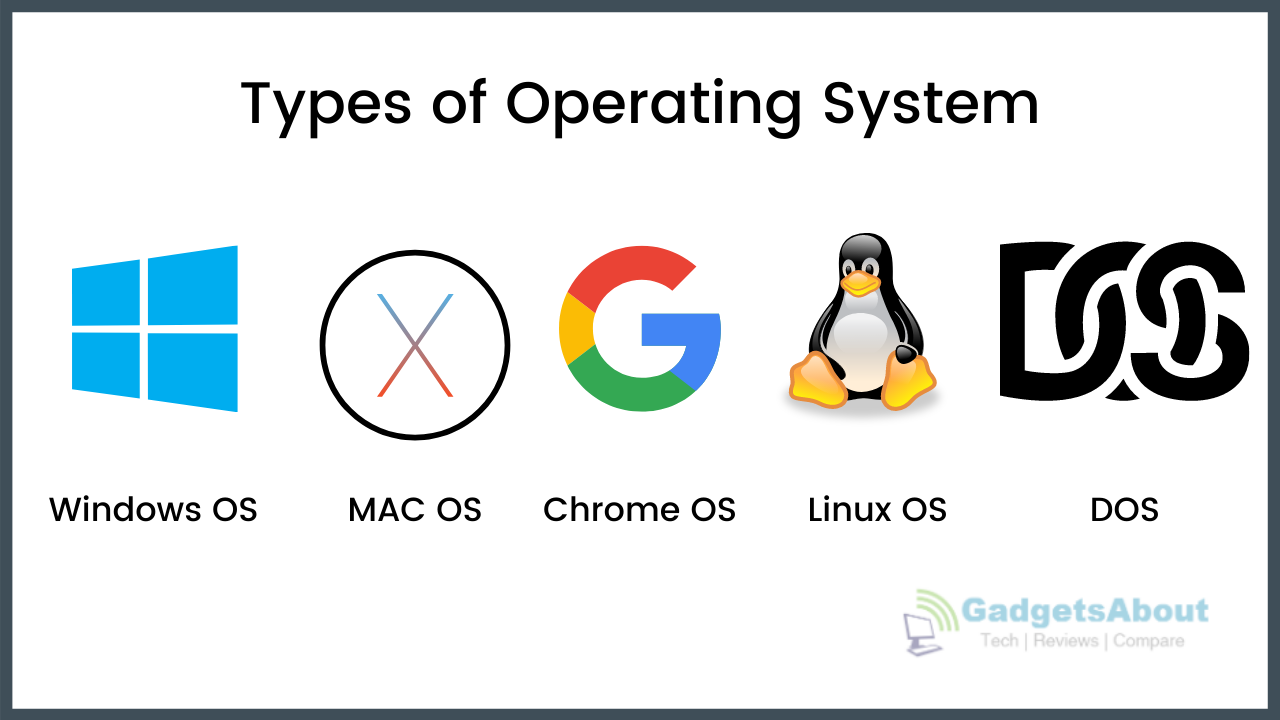 There are certainly comparable hardware and features offered with these platforms, there are some stark differences between them that are important to consider.
Windows OS: Windows-based laptops are the most commonly used in today's generation. Almost all the manufacturers use them, and the quality and pricing can vary depending on the model and brand you choose. Windows is far more open-ended than MacOS. It's the standard for game development and many business-related programs, empowering a larger software library.
MAC OS: Apple has always been protective of its brand, releasing products in very deliberate iterations. Any Apple product will follow its standards, whereas any manufacturer can make a Windows or Chrome OS-based PC with unique specs. Macs are very user-friendly and stable. And because they come from the same ecosystem, Apple's resourceful support network can easily help with any problems that arise.
Chrome OS: Google's Chrome OS is different from Windows and macOS. Based on the Chrome browser, this platform initially focused on web-based apps and affordability. Chrome OS has evolved over the years to support more traditional desktop software and mobile apps, similar to its rivals. Chromebooks are typically more affordable than Windows-based PCs and MacBooks due to their lower hardware requirements. They're ideal for schools and other institutions, and customers who just need a laptop to browse social media and make online purchases.
Linux OS: Linux is an open-source operating system that is commonly used by programmers. It is not as intuitive as Windows and not advised for Beginners. To install any software into the laptop, the software needs to be compatible with Linux distribution. Compatible software options are very few compared to Windows OS.
DOS: DOS is the most basic operating system. However, the user needs to install Windows OS or Linux OS as per their requirements.
Types of Laptop Based on Your Usage
There are several laptop categories available at amazon, manufactured with a definite use or audience in mind. So, here are the types of laptops based on your usage.
Student Laptops
If you are a student, your expectations from the laptop would be a quick processing speed and enough storage space to keep your notes.
A long battery backup is also an essential feature that every student must check before buying a laptop. These laptops have a battery life of over 6-8 hours so that students do not have to run for charging points every few hours.
The hard drive capacity can vary as per the volume of notes you are required to store on your laptop.
Related post: Check Best Laptop Under 30000
Budget Laptops
The main purpose of budget laptops is to offer the best features at the lowest prices. Mostly, people looking for budget laptops do not have any specific requirements for the laptop besides a good battery life and enough memory size for the basic work they do.
These laptops normally work well with 500GB hard drive capacity and a battery backup of upto 6 hours. The screen size of 11-16 inches is easily available in the price range of budget laptops.
Related Post: Check Best Laptop Under 40000
Personal Laptops
Personal laptops are primarily not for work purposes. People buy them most of the time because they need a spare laptop besides their official one.
They are also good for the people who work on laptops occasionally, mainly for watching movies, storing photos and browsing on the internet. Small RAM size and less Hard Drive capacity can work well for personal laptops.
These laptops do not require an extremely long battery backup and the screen size can vary as to your convenience.
Related Post: Check Best Laptop under 50000
Business Laptops
These laptops have to be powerful and speedy in their performance to ensure that you are able to work quickly on them.
The RAM size should be fairly large enough to ensure quick processing while the hard drive capacity can vary according to your scope of work.
An upper-end version of the processor makes these laptops perfect for business and a long battery life ensures that the laptop is perfect whether you work at your desk or you have to travel for work.
Related Post: Best Laptop for trading in Stock Market
Laptops for travelers
These laptops are right for people who travel a lot, either for work or for personal reasons. They are light in weight and do not have a large screen size.
To add to the comfort of travellers, most of these laptops have a screen that can be rotated to 180 degrees and can be easily converted into touchscreen laptops as well.
Long battery backup is a must feature in these laptops. A smaller screen size is always preferred for the ease of portability while you travel.
Related Post: Top 5 Gaming Laptops under 100000
Gaming Laptops
These laptops are ideal for professional gamers or people who are too passionate about playing games. They have a large RAM so that processing speed is never an issue for the gamers.
Upto 1TB Hard Drive capacity is normally ideal for gaming laptops. However, you can even go for a larger one if your gaming requirements are more than that.
A dedicated graphics memory, graphics processor, and large screen size in these laptops ensure that you get a great gaming experience.
Related Post: Check Best Gaming Laptop in India
Laptops for graphic designers
If you are a graphic designer by profession, your laptop needs will be different from others. These special laptops have the largest screen size, RAM Size, and Hard Drive capacity.
Both AMD and Intel Core processors work well but only the latest versions are preferred. An additional graphics processor becomes a must in these laptops along with a large screen size (preferably 16 inches and over) to ensure proper visibility on your screens.
Related Post: Check Best AMD Ryzen Laptop
Laptop Buying Guide – FAQs
What are the specifications of a good laptop?
If you're spending over Rs 40k on a laptop, the minimum specs you should get include an Intel Core i5 processor (Intel Core i7 or AMD Ryzen Mobile are also good), 8GB of RAM, a 256GB solid-state drive (SSD), and a 1080p screen.
How do I choose a laptop?