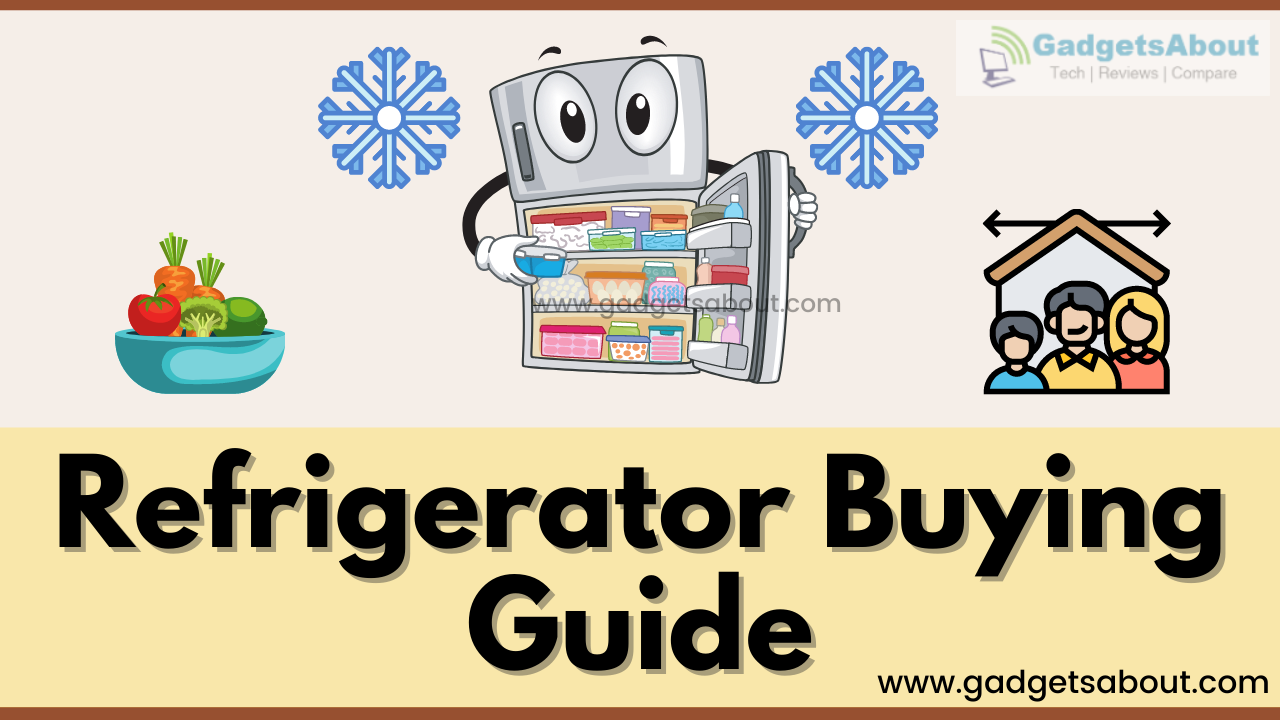 If you are looking to purchase a Refrigerator and are confused about which Refrigerator to select, then here is a comprehensive Refrigerator Buying Guide that might be helpful for you to decide on choosing the right Refrigerator which suits you.
About Refrigerator
A refrigerator is an essential part of any household, and thus it's important to know about it in detail before purchasing.
A refrigerator is covered with thermal to maintain a certain temperature on the inside that is perfect to slow down the fall of the quality of nutrients and keep the freshness and nutrition of food items undamaged for long.
Refrigerators also have a freezer section that creates ice that is ideal for the storage of meats and fish under very low temperatures. Although there is no single Best Refrigerator in India, we will help you to choose one that will suit all your requirements.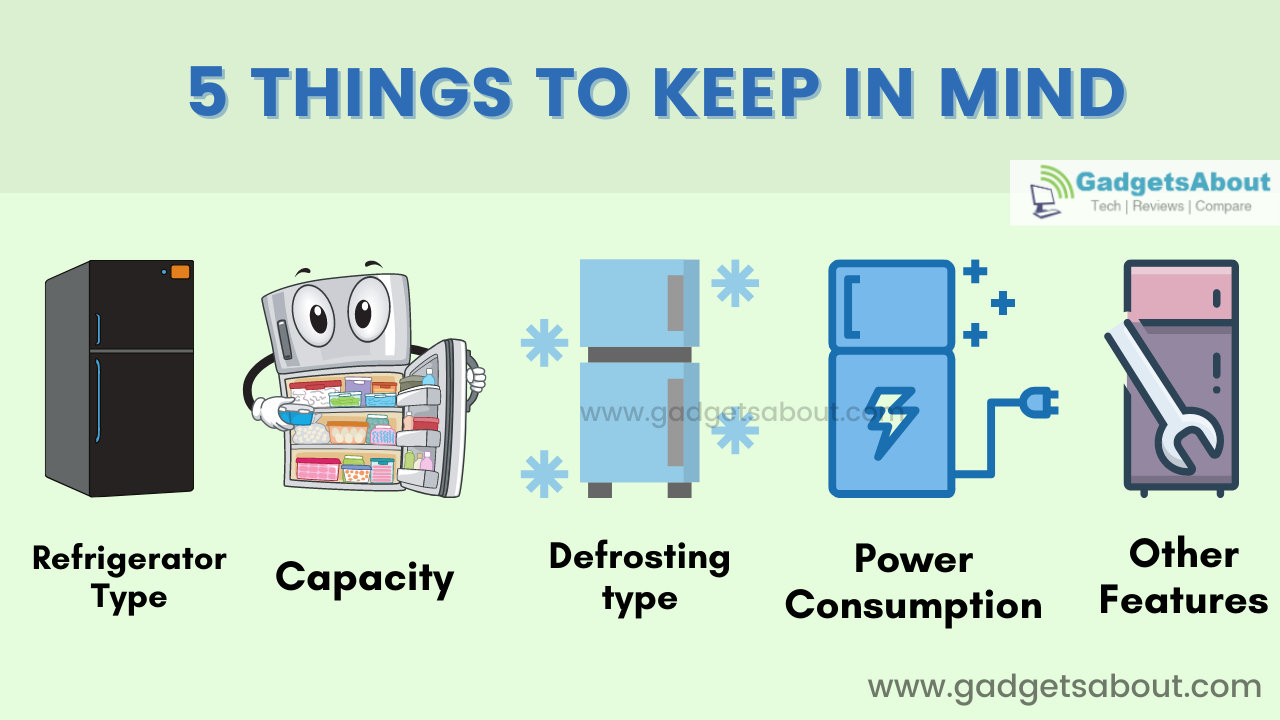 Refrigerator Type, Capacity, Defrosting type, Power Consumption, and Other Features are the things to consider when buying a refrigerator in India.
Related Post: Also check Best Refrigerator in India
Refrigerator Buying Guide
Let us start this refrigerator buying guide with the refrigerator types available on Amazon, Flipkart, and offline stores.
Refrigerator Buying Guide – Refrigerator Types
There are 2 types of refrigerators which are
Direct Cool Refrigerator
Direct cool refrigerators are basic in nature. In this refrigerator, the fans are not used to cool the fridge compartment.
These refrigerators are highly energy-efficient as one part may get cooler than some other part within the compartment in a natural type of convection
Only a few single-door refrigerators come under it. Some of the direct cool refrigerators have been featured with auto defrost technology to avoid manual defrosting.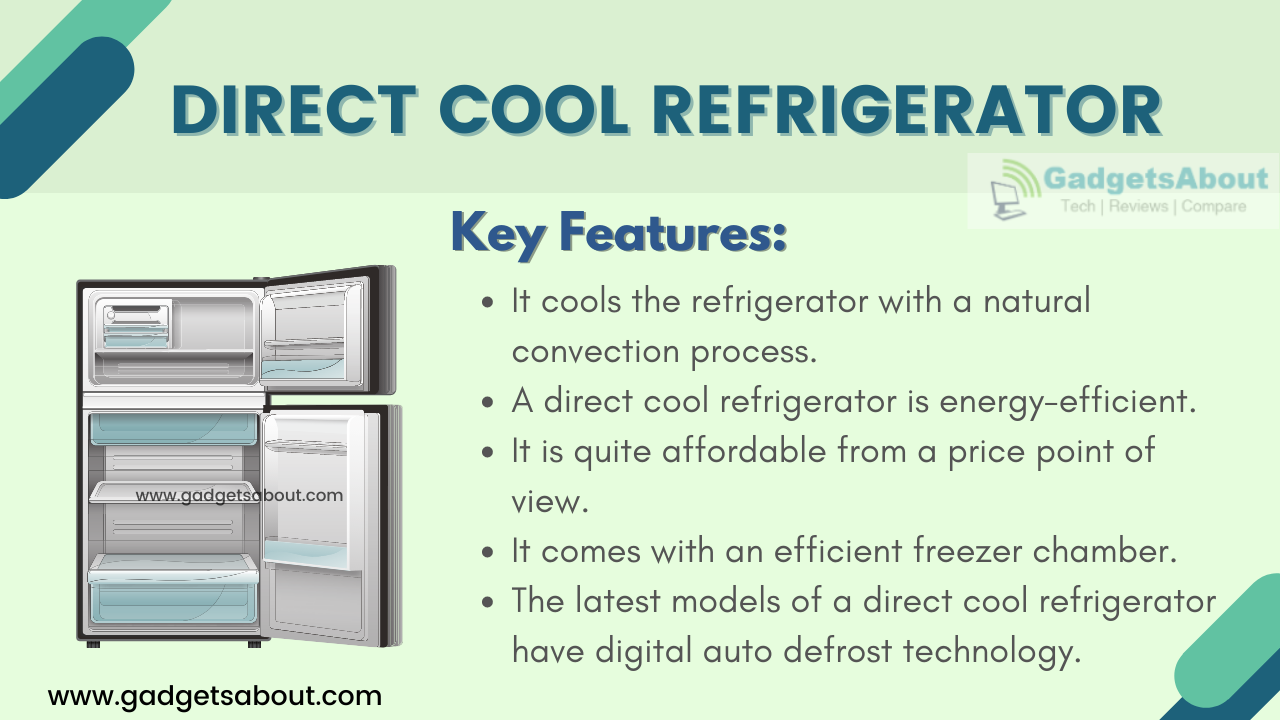 Also Check: Laptop Buying Guide
Frost Free Refrigerator
Most refrigerators except direct cool refrigerators are frost-free refrigerators. These frost-free refrigerators come with electric fans which help the inflow of cool air inside the compartments.
This helps in the controlled cooling of compartments and avoids the formation of ice outside the freezer.
These refrigerators are also provided by auto defrost technology. Frost-free refrigerators are the best at keeping a constant temperature all around the compartments of the refrigerator.
Refrigerator Buying Guide – Types of Frost-free refrigerators
Selecting the best refrigerator is to decide the door style or you prefer. The classic top-freezer refrigerator is an excellent choice for those on a low budget. Alternatively, a counter-depth refrigerator is a go-to option for saving valuable space.
Before summing up the various refrigerator types, let's first understand the single-door, double-door, and triple-door refrigerators.
Single Door Refrigerator
Single Door Refrigerators have a single door, which locks the cool atmosphere inside the refrigerator. Single Door refrigerators come with a freezer, a fridge, and a vegetable bin.
These are considered to be entry-level refrigerators and are quite affordable.
Single-door frost-free refrigerators take up very little space and thus they are ideal for small offices, clinics, grocery stores.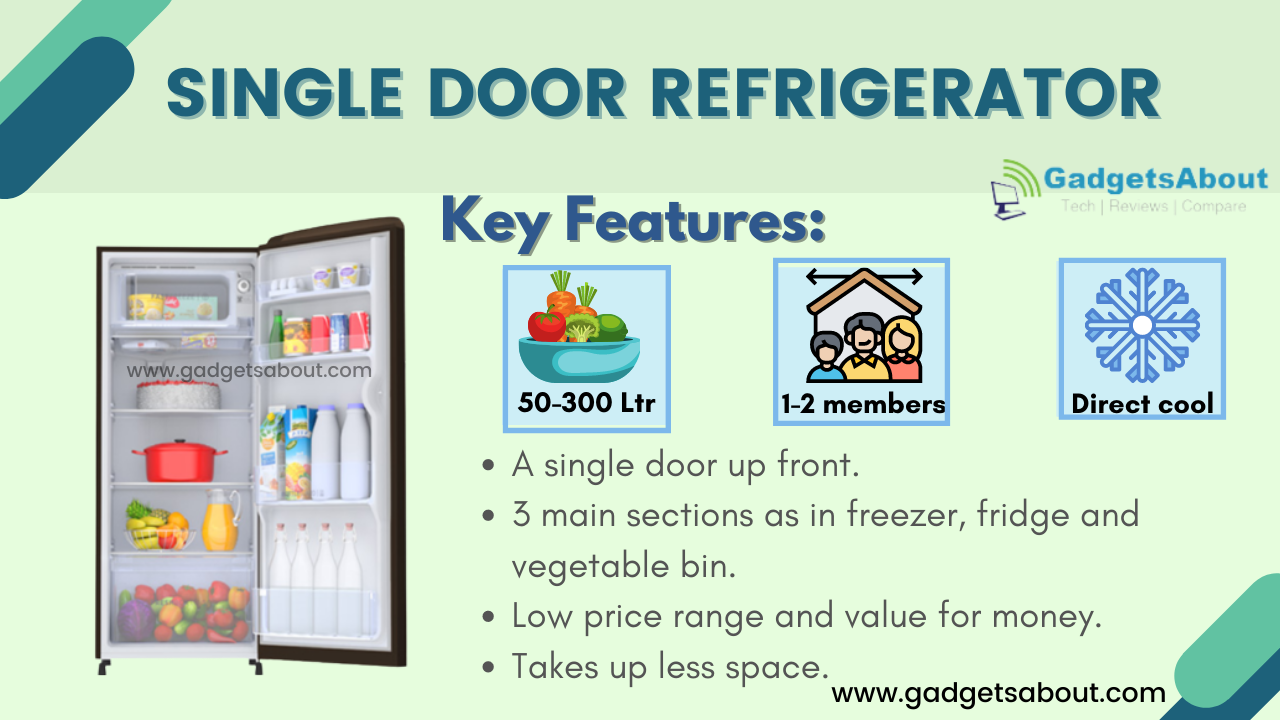 Double Door Refrigerator
Double door refrigerators are large in size and consist of two doors up front and offer a decent storage capacity. 
One door covers the fridge compartments that maintain temperatures between 0 and 10 degrees centigrade while the other door seals the freezer chamber which maintains the lower temperature environment.
The existence of 2 separate doors reduces the chances of heat escape even when the fridge is opened frequently.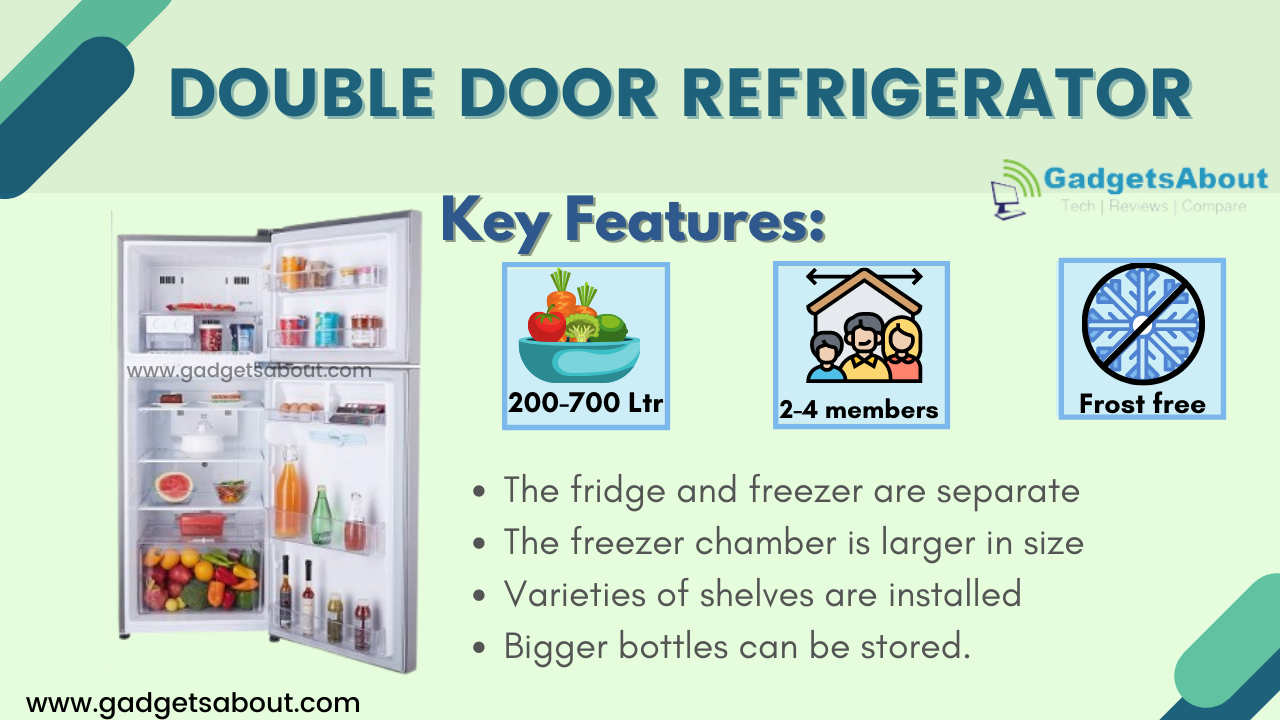 Side by side Door Refrigerator
Side by the side door of the refrigerator consists of 2 doors side by side just like a cupboard. Side by side door refrigerators have bigger storage capacities and have the ice and water atomizer inside.
A refrigerator of this type with water dispensers lets you fill-up the glasses without opening the door. The side-by-side refrigerator design provides you with lots of space for storage and saves on energy consumption.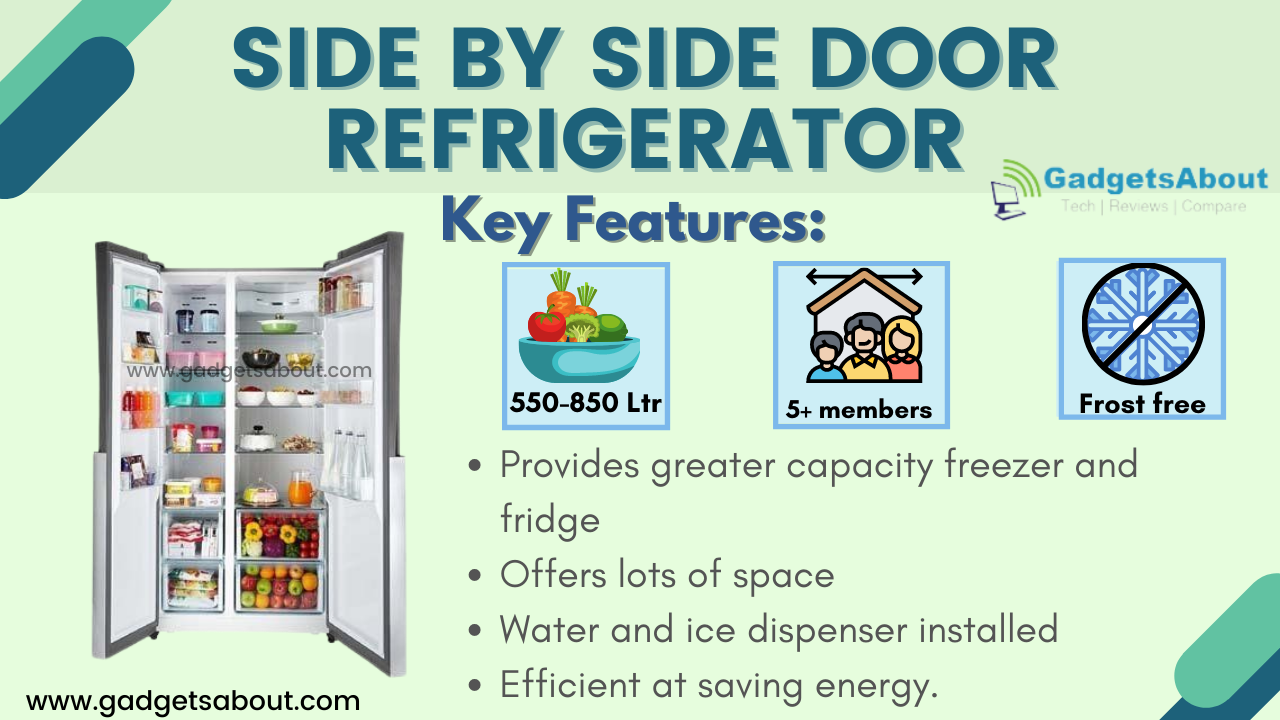 Also Check: Washing Machine Buying Guide
Refrigerator Buying Guide – Refrigerator Capacity
The refrigerator capacity differs from model to model. Even refrigerators ideal to be labelled as the best refrigerator in India comes with a varying capacity to meet different requirements.
The refrigerator capacity you require depends on the total number of people living in your family. So, please check the table below
| | | | |
| --- | --- | --- | --- |
| Door type | Capacity | Family size | Cleaning process |
| Single door | 50 to 300 Liters | 1- 2 members | Need to manually clean the ice |
| Double door | 200 to 700 Liters | 2-4 members | Auto-cleaning of the ice and the freezer is located at the top |
| Side by side door | 550 to 850 Liters | 5+ members | Auto-cleaning of the ice |
Refrigerator Buying Guide – Refrigerator Defrosting Type
While choosing a refrigerator, you might also like to decide which type of defrosting you want.
There are 4 types of defrosting mechanisms, which are
Frost-free: A Frost-free feature is a built-in thermostat, heater, and timer that activate the defrost cycle every 2 hours.
Cyclical: A cyclical defrost mechanism is automatically activated every 8 hours. The defrost cycle lasts about 20 minutes and the frost evaporates on its own.
Semi-Automatic: A semi-automatic defrost mechanism requires pressing a button to start the defrost cycle.
Automatic: In an Automatic defrosting mechanism, manual intervention is not required to defrost the fresh-food compartment. It requires manual defrosting of the freezer.
Also Check: Buying guide: Oven buying guide Microwave, convection, grill
Refrigerator Buying Guide – Refrigerator Power Consumption
Newer models are more energy-efficient than their older refrigerators. If you're upgrading to a new refrigerator, disregard its type, then rest assured that it will save more energy than the one you have right now.
Different refrigerators will have different energy ratings, ranging from the lowest 1-star to the maximum 5-star.
The more energy efficient a refrigerator is, the less is it to be pricier. So, you need to spend more to get the best refrigerator with higher energy efficiency.
Refrigerator Buying Guide – Other Features to Consider
Before getting fixed to a particular refrigerator, you need to check for these additional features:
Finishing: Even the same colors and surface textures can vary from among manufacturers. The typical build of any best refrigerator is stainless steel. Aside from being durable and robust, it sets right with most forms of home décor. Some refrigerators even feature a fingerprint-resistant stainless steel finish. You can opt for a refrigerator with a bright solid color to match your decor, however, they aren't the hype these days.
Handle Style: The handle of a refrigerator can be a big aesthetic factor for some people. If you are amongst them know that there are typically two types of refrigerator handles which are curvy, smooth, and ergonomically designed (European style), and the other is a straight and textured (pro handle).
Ice Makers and Ice and Water Dispensers: Ice makers and ice water dispensers are extremely convenient in the summertime or for regions that are mostly warmer all around the year.
Climate Control: Climate control is an added layer of refrigeration in a refrigerator. Most refrigerators come with this feature.
Noise Level: Every refrigerator makes some level of noise. Some are quieter and quiet while others are louder. You need to go through customer reviews of your refrigerator options to know about the sound levels that they produce.
Refrigerator Buying Guide – FAQs
What should I check before buying a refrigerator?
While buying a Refrigerator, you need to consider
1. ENERGY STAR – to minimize the electricity bill.
2. Refrigerator with a Top-Mounted Freezer.
3. Refrigerator capacity suitable for your family members.
How to choose the best refrigerator?