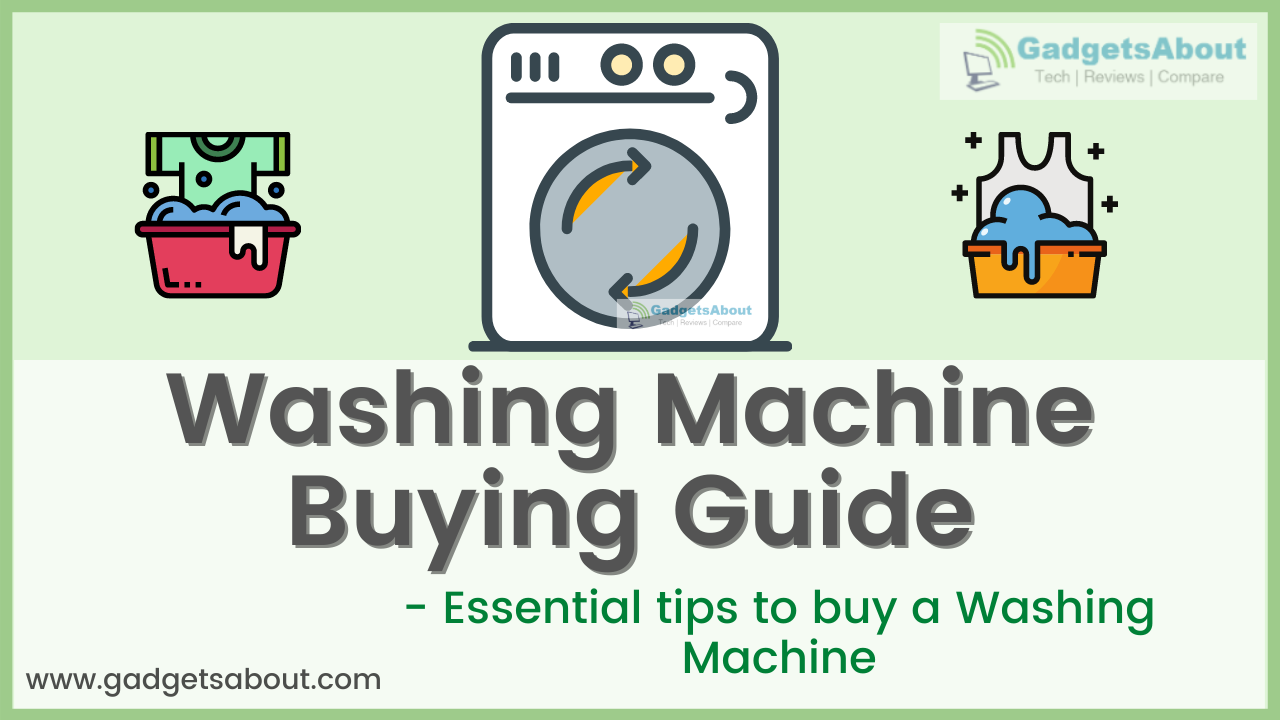 If you are looking to purchase a Washing Machine and are confused about which Washing Machine to select.
Here is a comprehensive Washing Machine Buying Guide that might be helpful for you to make a decision on choosing the right Washing Machine which suits your family.
About Washing Machine
Washing machines are one of the important home appliances for busy families. But when it comes to buying a washing machine, you need to make sure to know about it completely.
Getting to select the Best washing machine in India will depend on your ability to analyze some elements and things to consider before buying a washing machine of your choice.
Basically, a good number of washing machines differ in terms of features, capacity and load, and function.
These also have unique features such as quick wash, wash programs, protective rat mesh, child lock, hot wash/temperature control, digital display, and so on. 
Also Check: Laptop Buying Guide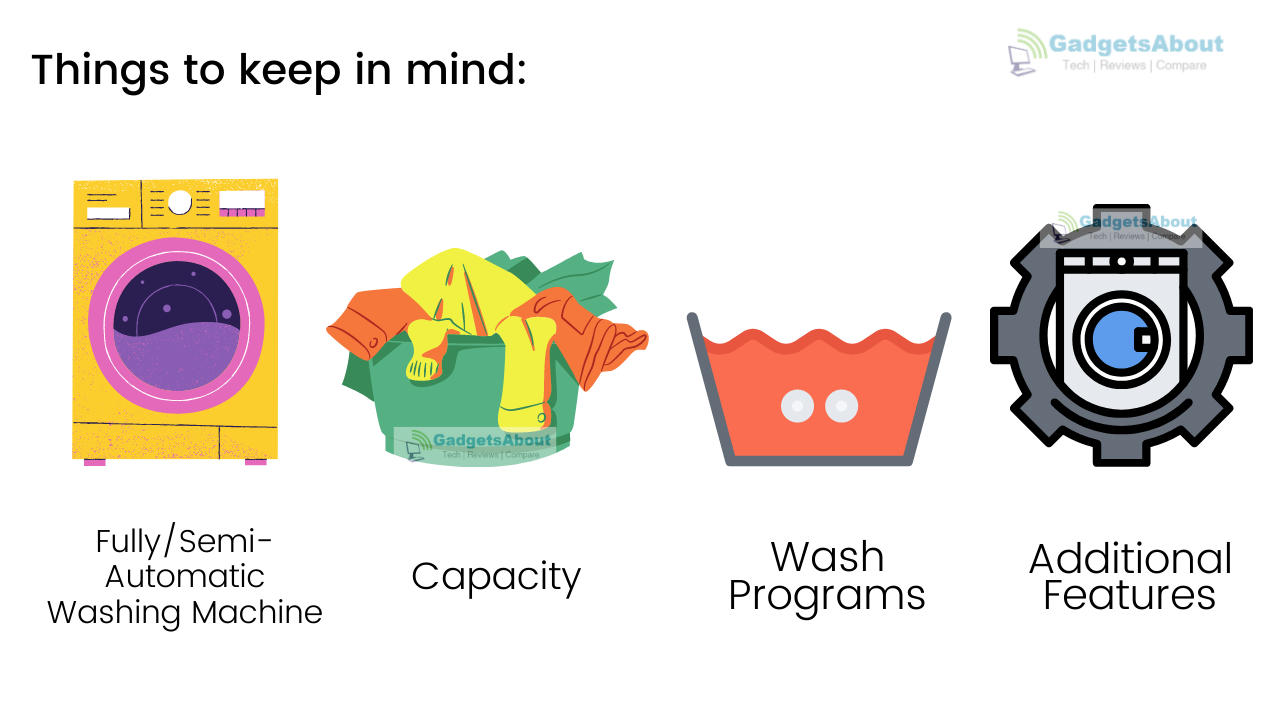 Related Post: Best washing machine in India
Washing Machine Buying Guide
Let us start this washing machine buying guide with the types of washing machines available on Amazon, Flipkart, and offline stores.
Types of Washing Machine
When buying a new washing machine, the first thing is to understand the 3 types of machines available. This buying guide will help you to find one that best matches your requirement.
Also Check: Refrigerator Buying Guide
Washing Machine Buying Guide – Fully Automatic Washing Machine
Fully automatic washing machines, as the name suggests, complete the laundry process from start to finish, at the touch of a button.
You don't need to manually transfer your laundry into a separate dryer, so these machines make washing your clothes much simpler.
Once you've filled the drum, added the soap, and chosen your wash cycle, you only need to take your laundry out once it's cleaned. Fully automatic machines are ideal if you're generally pushed for time and need to streamline the laundry process.
However, they're usually more expensive to buy, so if you're on a budget and won't benefit from the speed and simplicity they offer, you may be better choosing a semi-automatic model.
There are two types of fully automatic washing machines available in the market which are front load and top load.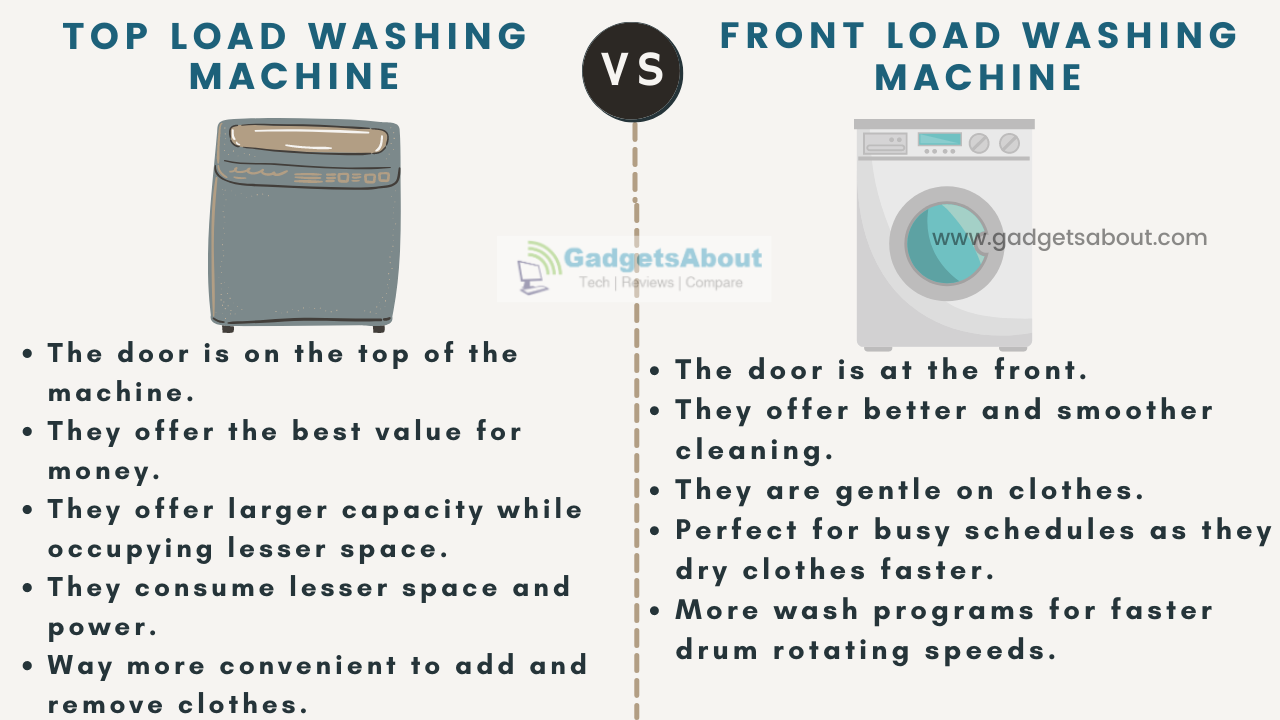 Washing Machine Buying Guide – Top load Washing Machine
Top load washing machines are more traditional types and are a good option for those who have a separate utility room in their home.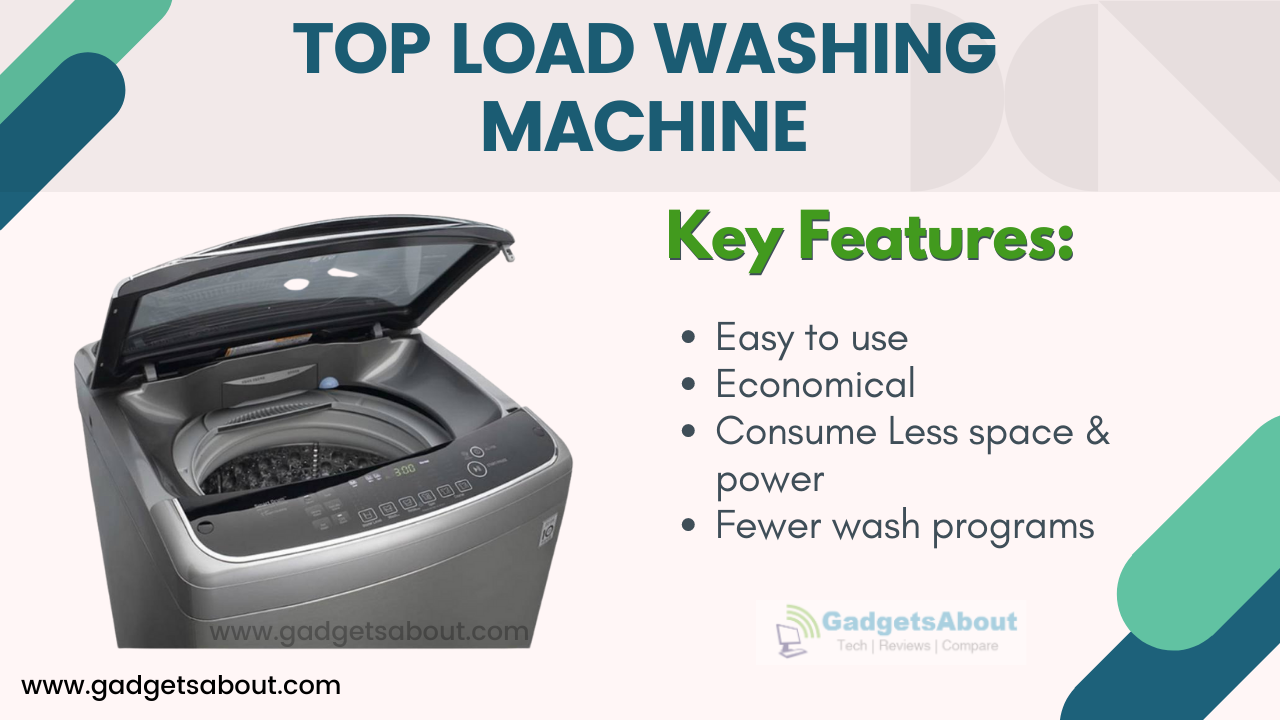 Top loads are a better option for anyone with mobility issues as you don't need to bend. These machines are usually cheaper to buy than front-loading types too.
Generally, these models are larger in size; if space isn't an issue, or if you have a bigger family, consider a top-loading machine it is a great value for money.
Related Post: Also check Best top load washing machine in India
Washing Machine Buying Guide – Front load Washing Machine
When using a front load washing machine you get the best wash quality and convenience.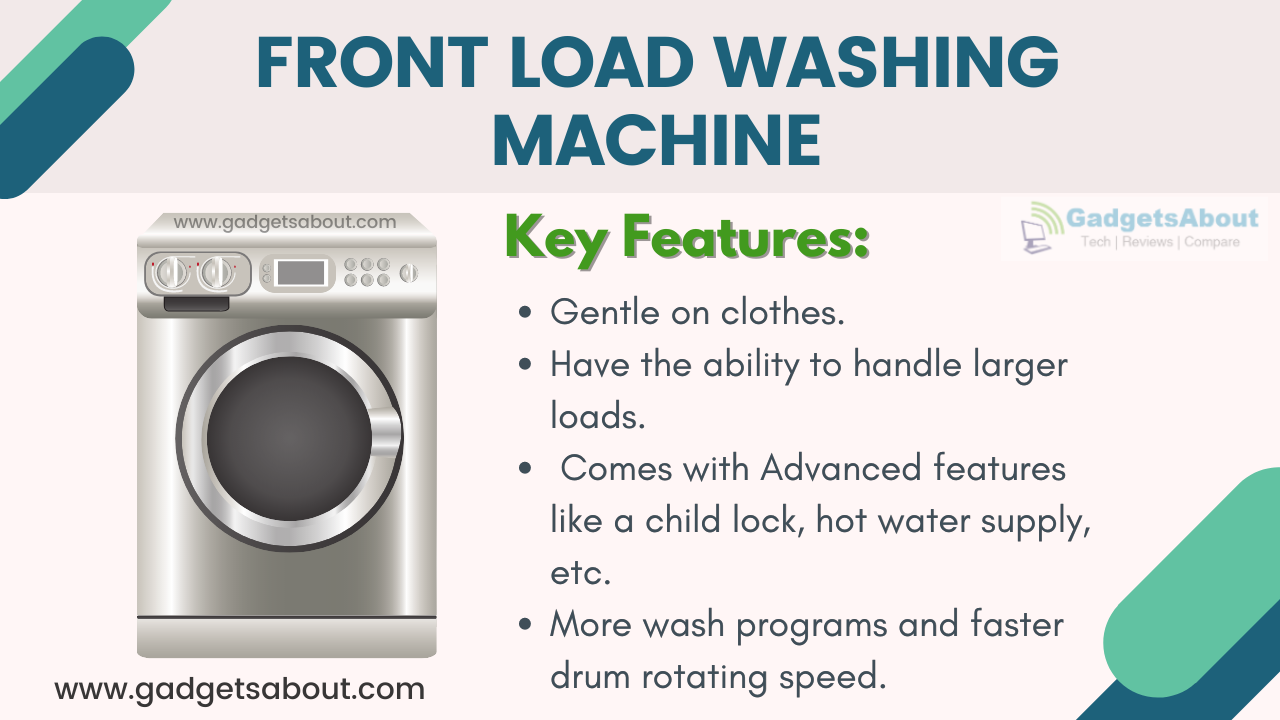 Your clothes go into the drum at the front of the machine, rather than through the top. These types are becoming extremely popular, offering a variety of wash programs and good cleaning capabilities.
Usually, they use less water and are gentler on the clothes too. Front-load washing machines can be fitted neatly under worktops in kitchens or utility areas, making them look part of the design at best or inconspicuous at worst.
They can be more expensive than their top-loading counterparts, so factor this in. However, front load machines usually offer a wider range of wash programs and can be quieter too.
Related Post: Also check Best front load washing machine in India
Washing Machine Buying Guide – Semi-Automatic Washing Machine
A Semi-automatic washing machine is suitable for a family which is tight on budget and prioritizes energy-saving as it requires more manual effort. These models usually contain two separate tubs; one for washing, and one for drying.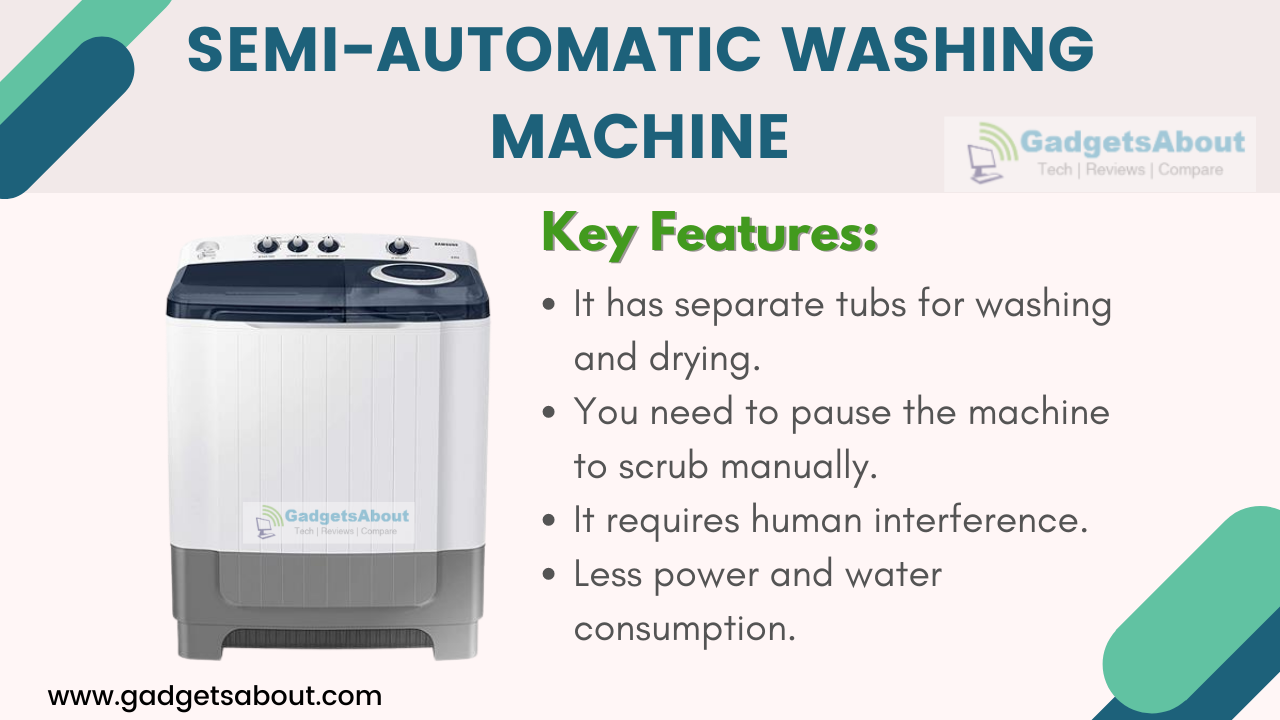 You need to fill the water, add the soap, drain the dirty water, unload your wet laundry, and put it in the dryer.
Though this can be more time-consuming, semi-automatic models are energy efficient, because they use less water and electricity.
Related Post: Also check Best Semi Automatic washing machine
Decide the Capacity
Washing machine capacity usually ranges between 5kg to 10 KG of load per wash cycle. Depending on the number of clothes in your home, you can decide the best suitable washing machine for your family.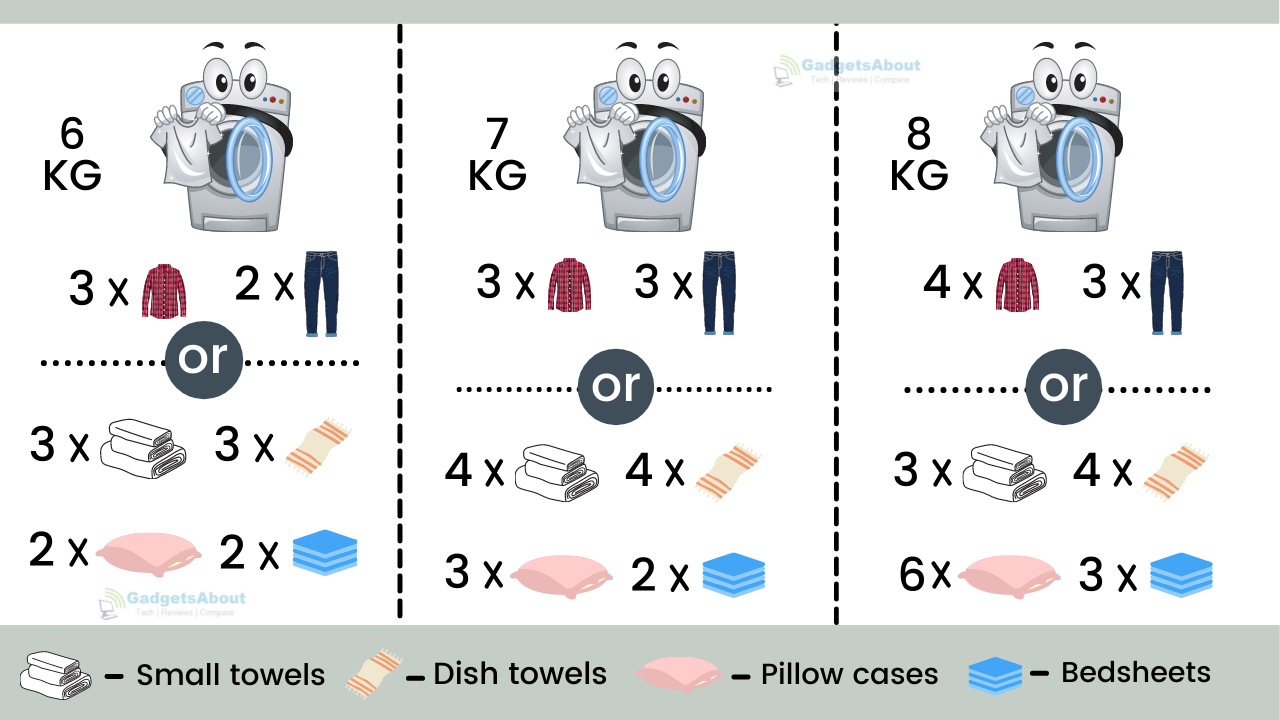 One thing you need to keep in mind while buying a washing machine is that the higher the capacity of the washing machine, the more water and power is consumed.
Also Check: Top 5 Convection Microwave oven under Rs 12000
Wash Programs
Wash programs remove the guesswork and allow you to pick the right wash treatment for your clothes.
Wash Programs as per cloth type
Delicate materials require more care while washing. For e.g., silk can get overstressed and tear.
Heavily soiled clothes need more rinsing to get rid of all the dirt.
There are tailor-made programs for various fabrics.
Time Delay: Load clothes into the machine and set the program to start the wash cycle later. Super handy when you want to avoid the noise by programming the wash cycle to start when you are not at home.
Pre-Soak: Soak your clothes for a specified period after which the wash cycle begins automatically!
Quick wash: Quick wash only takes up to an hour to wash your clothes, which means it has a shorter spin cycle and won't always reach the same temperature as you would in a regular wash. To get the best results from quick wash: Only fill your machine up to 40% full. Only wash clothes with a low level of soiling.
Advantages:
With multiple wash programs, your machine will be able to handle any fabric you throw at it.
Having multiple wash programs for different fabrics reduces a lot of hassle and saves time.
Additional Features
You need to consider more other features while purchasing a washing machine like
Protective rat mesh: Nowadays, washing machines are coming with a rat mesh that protects from rat biting wires of the washing machine. Copper mesh is ideal for use in eaves, roof tiles, retractable awnings, behind signs, where pipes enter siding and foundation, cracks, holes, or any small openings that need to be filled to keep mice, rats, and pests birds out.
Child lock: This function allows you to lock the buttons on the panel of the washing machine so that the wash cycle you've chosen can't be changed by a child while he/she is playing with it.
Temperature control: This is the feature that will help you regulate the temperature of the water if the washing machine comes with an in-built heater. Temperature control is very useful during winter. Apart from that, hot water will clean your clothes better than cold water. There are also a number of machines with a steam setting that also help in fighting stains and dirt.
Digital display: Most washing machines come with Digital displays. Larger displays are clearer and easy to read. They also convey more info such as time left till cycle completion and washing stage.
Washing Machine Buying Guide – FAQs
Which brand of washing machine lasts the longest?
Samsung, Whirlpool, and LG are the most reliable brands of washers. Yale Appliance found that less than 7% of the sales of these units required servicing.
How do I choose the best washing machine?