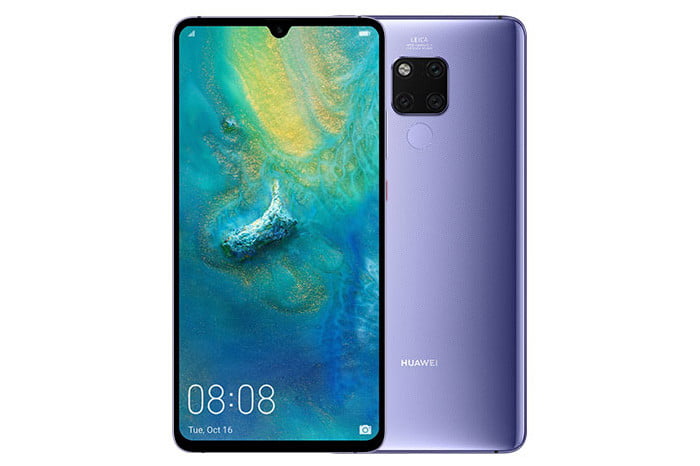 This year the Huawei Mate line features four phones. The Mate 20 Pro is the mainstream flagship and then you have the Mate 20, which slightly downgrades the display, camera and drops the IP68 rating. Then the Mate 20 RS Porsche Design, which builds on the Pro with fancier finish and retail package.
And then there's the Mate 20 X, which is way harder to sum up as it's one part Mate 20, one part Mate 20 Pro and one part its own thing. You get the more premium camera setup, but the lower 1080p display resolution and then there's the huge 7.2″ AMOLED panel and a whopping 5,000 mAh battery.
The phone measures 174.6 x 85.4 x 8.2 mm and tips the scales at 232 grams. Yet despite its size Huawei didn't find space for its Face ID tech, or Qi wireless charging. The Mate 20 X is also missing the extra snappy 40W charging standard (settling for 22.5W instead) and the under display fingerprint scanner as well as the IP68 water and dust protection.
The massive footprint is not doing the Mate 20 X any favors when it comes to capturing photos and videos. You do get a massive viewfinder, Huawei's best triple camera setup to date and the Night Mode, which can be a game changer in low-light environments. People tend to look at you silly when you whip out a 7.2-inch device for some snaps.
It even has a couple of exclusive accessories to boost its performance. First up is the HUAWEI M-Pen. Sadly the Mate 20 X has no slot for it so there's no convenient way to carry, like on a Samsung Galaxy Note. If you can live with that the M Pen could be great for some artistic work on the go.
The HiSilicon Kirin 980 chipset definitely has plenty of horsepower and the GPU Turbo 2.0 will make sure to extract all of it. There's also the liquid cooling, which should be the best in the Mate 20 lineup and the massive 5,000 mAh battery for those extra long gaming sessions.
Lower native resolution means that the Mali-G76 MP10 GPU doesn't need to work nearly as hard to push high frame rates. What makes gaming on the Mate 20X that extra bit more pleasurable is the enormous 7.2-inch display. A huge, flat AMOLED is the dream for a mobile gamer and the BETOP G1 controller attachment, designed specifically for it can provide the extra controls that make the right kind of difference in some games.
The Mate 20 X might not be a universally desirable devices, but it has plenty of things going for it and to many it may end up being the best Huawei phone to date.