Best seller
Top 5 Air Purifiers under 15000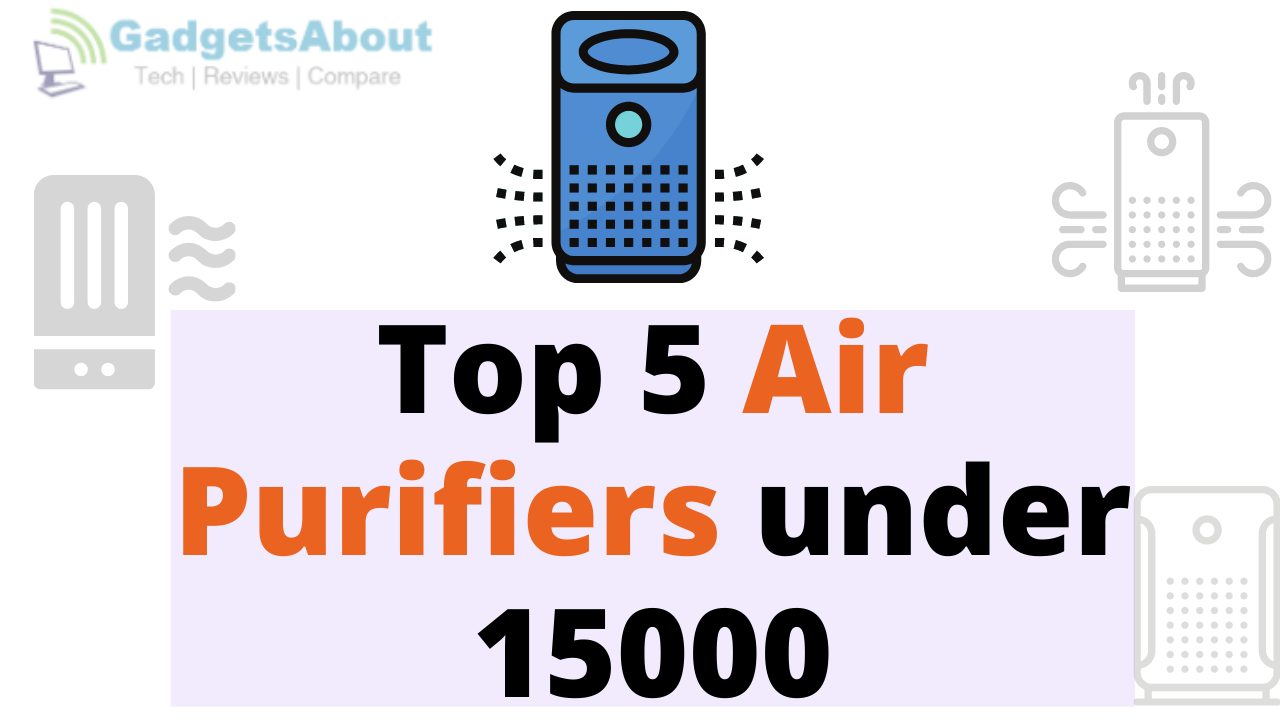 Clean air is now more important than ever, as everyone is staying indoors a lot more. If the indoor air is not taken care of, it pretends a high risk of producing a breathing issue that can be dangerous to many.
A good air purifier at home can take care of all the pollutant and you can enjoy the fresh air.
Before you make that purchase, it's necessary to look at some crucial factors like the room size, filter replacement charges, standard certification, noise levels, electricity consumption, etc.
Here in this article, we have listed the Top 5 Air Purifiers under 15000 which you can buy in Amazon Great Indian Festival 2020
Top 5 Air Purifiers under 15000
1. Mi Air Purifier 3
Mi Air Purifier 3 with True HEPA Filter and Smart App Connectivity
Rs. 12,999
Rs.

9,999
in stock
1 new from Rs. 9,999
Free shipping
as of October 30, 2020 2:36 am
Features
True HEPA Filter with filtration efficiency of 99.97% for particle size up to 0.3 microns
OLED touch Display (Shows real time PM2.5 concentration, Temperature and humidity, Wi-Fi connection and Working mode)
Smart app control, Rated Frequency: 50/60 Hz
Works with Google assistant and Amazon Alexa
360 Degree Air intake with 3 Layer Filtration
2. Philips AC1215/20 Air purifier
Philips AC1215/20 Air purifier, removes 99.97% airborne pollutants with 4-stage filtration
Rs. 11,995
Rs.

9,599
in stock
1 new from Rs. 9,599
Free shipping
as of October 30, 2020 2:36 am
Features
Vitashield Intelligent purification automatically senses air quality and products Effective Filtration Size (in microns) >= 0.02 and for 0.3+ microns is 99.97%, 800 times smaller than PM 2.5
Purifies a standard room in just 12 minutes with a CADR of 270 m3/hour (Standard room size is 18 ft by 12 ft with an 8 ft ceiling height). Recommended room area: 226-333 sq ft.
4 Stage Filtration process through pre filter, activated carbon filter & double layered H13 Grade TRUE HEPA Filter
4-color air quality indicator gives real time air quality feedback, Packaging: > 90% recycled materials
Removes 99.90% bacteria and viruses, tested to remove airborne H1N1 virus
3. Sharp Air Purifier
Sharp Air Purifier for Homes & Offices | Dual Purification - ACTIVE (Plasmacluster Technology) & PASSIVE FILTERS (True HEPA H14+Carbon+Pre-Filter) | Captures 99.97% of Impurities | Model:FP-F40E-W | White
Rs. 15,990
Rs.

9,990
in stock
9 new from Rs. 9,990
Free shipping
as of October 30, 2020 2:36 am
Features
JAPANESE QUALITY PRODUCTS : Sharp has sold 8 crore products worldwide, equipped with Plasmacluster technology and have been known to provide only original products with advanced Japanese technologies. As a part of our global commitment, Sharp confirm to supply spares and consumables (all replacement filters) for a period of 5 years after the product is discontinued in India
DUAL PURIFICATION : Sharp Air purifier works on dual purification mode. This indoor air purifier has inbuilt Plasmacluster technology which is certified by 31 global labs and combination of three Passive filters i.e. Highest Grade H14 HEPA Filter, Voluminous Granular Active Carbon Filter and a Pre-Filter that purifies the air with its unique 20 degree airflow to cover the entire room
ELEGANT DESIGN : The Sharp Air Purifier is designed in Japan and manufactured under strict quality control to ensure that the product compliments the look and feel required for your bedrooms or living spaces. Sharp certified as JAPAN and ASEAN NO. 1 by Euromonitor International Limited, 2018 brand helps reduces the intake of various toxins and pollutants with every breath
INCREASED EFFICIENCY : This Air Purifier has superior purifying efficiency as it can clean and purify the air four times in one hour in a room of 200 square feet space. It is suitable for 24 x 7 x 365 days operation and can work full day without any interruptions even in case of non ventilated room
BEST IN CLASS FEATURES : Sharp air purifier offers highest grade materials made of ABS material to ensure safety for the users. It has a special HAZE function for Indian conditions. It also has an Auto-restart option, Auto and Manual modes, Dust and Odour sensor, low noise level. These features make this product an ideal choice for homes and thereby saving energy and electricity ; Customer Support Center: 1800-237-4277 for any assistance
4. Honeywell Air Touch I5
Honeywell Air Touch I5 Room Air Purifier with HEPA Filter, 30 Sq. m (White)
Rs. 16,990
Rs.

9,499
in stock
4 new from Rs. 9,499
Free shipping
as of October 30, 2020 2:36 am
Features
Air Touch I5 indoor air purifier by Honeywell, a Fortune 100 company
CADR (Clean Air Delivery Rate) of 250 cu m/hr, offers up to 30 sq. m coverage area for a room with 2.74m height. Suitable for bedrooms and living room
Three stage advanced filtration system that removes pollutants with more than 99% efficiency
Washable pre-filter that removes larger dust particles, pet hair/dander, soil etc. and improves the life of HEPA filter
Combined filter with High-efficiency HEPA and activated carbon filter that removes any microscopic pollutant and allergens above 0.3 microns including PM2.5 and pollens
5. Havells Freshia
Havells Freshia AP-20 40-Watt Air Purifier with Remote (White/Blue)
Rs. 14,995
Rs.

9,749
in stock
as of October 30, 2020 2:36 am
Features
Air Purifier Type - Room; Purification method - True HEPA Technology, Noiseless BLDC Motor
Coverage area: 215 square feet / 20 sq. metres., especially suitable for bedrooms
Clean Air Delivery Rate (CADR): 180 m3/hr (215 square feet); CADR indicates the volume of purified air (in cubic metres) which an air purifier produces every hour
Wattage: 40 watts with 3 levels Fan Speed
Unique Safety Controls: Sleep mode, Manual Timer Setting, Automatic Filter Replacement reminder, ODOUR Sensor
Sharp Air Purifier FP F40E W Demo Video with proof of effectiveness
A detailed demonstration on how Sharp Air Purifier FP-F40E-W works and how it is useful in improving the Indoor Air Quality thus reduce our exposure to ...