Buying Washing machine has become a tough decision these days .When a person decides to buy a washing machine , he goes to shop and there he gets further confused after finding different options available under semi automatic , fully automatic , front load , top load etc. Usually the shop owner tries to sell you machines on which they get good money  or they have in Stock. But once you buy it , lot of times you think that the machine is not actually good. Here you can also find top 5 fully automatic top load washing machines in india below 20000 rs.
In this post , our team has analysed all the  washing machines which are available in india  below 20000rs and rated them based on multiple parameters to make your buying decision simple We based the ratings on below parameters.
1>Quality of After sales service
2>Value for money
3>Quality of Wash
4>Ease of use
We have come up with the below top 5 fully automatic top load washing Machines in india below 20000 rs.These all machines are very capable with few additional functions which differentiate them.
Here are the top picks for Best Fully Automatic washing machines in india under 20000 rs .
1> LG 6.2 kg Fully-Automatic Top Loading Washing Machine (T72CMG22P, Marine Blue / Cool Grey)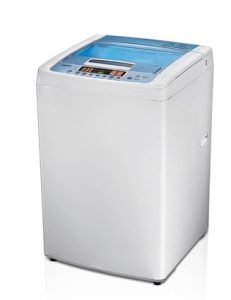 This is the best washing machine in fully Automatic front load segment under 20000 which bags the best machine title.This LG 6.2kg washing machine comes with dual direction rotating drum  which reduces tangling of clothes and ensures your clothes stay as fresh and new for much longer than ever before. The machine also is now less susceptible to wear and tear giving you a longer life.The Punch + 3 Pulsator technology , as claimed by LG, cleans fabric very efficiently.
The washing machine has 6.2kg tub which is made of stainless steel. There is regular Fuzzy mode as well as a hard mode for tough stains.Clothes were washed very clean in both of the modes.The machine  has Normal washing modes like Fuzzy , Wool , Quick wash ,Jeans and also special programs  of Extra Rinse ,Tub clean and silent.
The operation levels are not very noisy. The digital display provides timing info as well as program info
The Unit comes with good 2 years Warranty with additional 10 years on Motor. This will keep you tension free for long term and After sales service of LG is also good.
The inlet tube and drain hose that came with the machine is not lengthy enough and you may need to buy additional length depending on place of install.
1>Quality of After sales service – 4/5
2>Value for money – 4.5/5
3>Quality of Wash – 4.5 /5
4>Ease of use  – 4/5
You can Buy it from :
Amazon : LG 6.2 kg Fully-Automatic Top Loading Washing Machine (T72CMG22P, Marine Blue / Cool Grey)
Flipkart: LG 6.2 kg Fully-Automatic Top Loading Washing Machine (T72CMG22P, Marine Blue / Cool Grey)
2> IFB 6.5 kg Fully-Automatic Top Loading Washing Machine (TL-RDW 6.5kg Aqua, Ivory White)